1974
1974 Works
Paintings
Works on Paper
Works on Paper Minor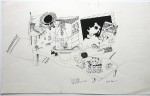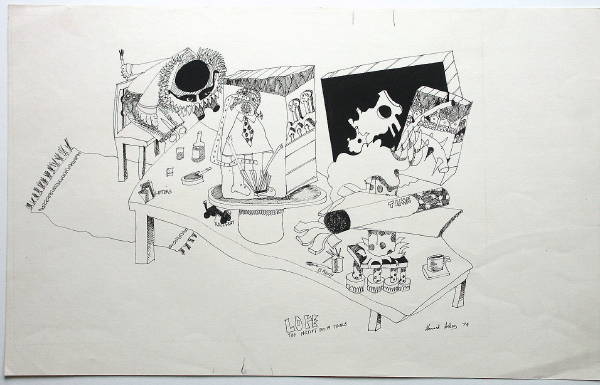 A number of less formal works on paper remained in the Arkley archive at the artist's death, including pencil sketches (some dated 1974), still in his late 60s/early 70s style, and several cartoon-style ink sketches.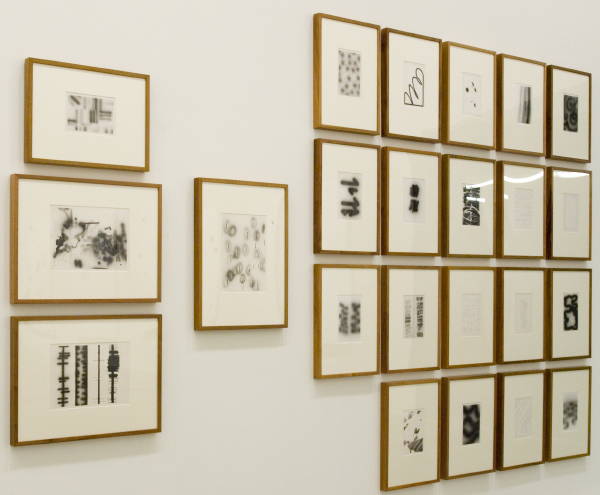 In January, Arkley won first prize at the Australia Day art show in outer suburban Frankston, for Transpass (1972). The local newspaper report, which included a photo of him and Elizabeth Gower with the work, noted his ambition 'to work full-time as a professional painter of modern art' (unidentified clipping in Arkley's archive). Despite this success, Arkley was still a relatively unknown recent graduate, still searching for an independent artistic voice.During the year, however, that clearly changed, as the experimental complexity of his earlier work gave way to a stronger, simpler, largely monochrome style, focusing particularly on the contrast between precise and gestural mark-making. Underlying this formal development was a considered blend of ideas drawn from modernist art theory, philosophy and science.
From 1974 onwards, he pursued this project in a sequence of large 'white paintings', and a very extensive series of related works on paper – resulting, by 1976, in a very substantial and sophisticated body of work (for detailed accounts of his 'white' period, including the ideas underpinning the works, see especially Spray, ch.2, Carnival 94-100, and Smith, Howard Arkley, 2006).
The 2006 NGV retrospective (see e.g. installation photo above) provided a strong sense of the range and variety of this key early phase of his career, although only a small fraction of the paintings and works and paper he made at the time was shown there.
Arkley Works now covers the artist's entire 'white' oeuvre, many previously uncatalogued drawings from the period 1974-78 being added in 2013. The great majority of these are listed under 1974, given that few drawings are precisely dated. For a more detailed analysis and a systematic catalogue, see also 'White' works on paper 1974-78.
Recognition of Arkley's growing artistic maturity was signalled, above all, by the decision of Georges Mora, director of Tolarno Galleries in St Kilda (established in 1967), to invite Arkley to join his stable during the year. Association with Tolarno – where Arkley would go on to exhibit (remarkably enough) throughout his career from 1975-99 – significantly expanded the circle of connections he had already established at Prahran College and elsewhere. During his years there he was exposed to a significant array of major Australian and international artists, from Juan Davila (who first exhibited there in 1977, soon after his arrival in Australia) and John Brack (who showed with Tolarno from 1985 onwards), to younger artists including Tim Jones, Callum Morton, Constanze Zikos, and many others (for Tolarno, see e.g. McCullough 2006, p.1150; and for Arkley's first meeting with Davila at Tolarno, see Gregory 2001, p.3).
1974 Exhibitions
(details based on Duncan 1991: 16 and 31, and HA Bio.1969-75 – but some of these details seem unreliable)
Bunbury Art Prize, W.A., 1974
[check-list in Arkley's archive]
Clayton Art Prize
Contemporary Arts Society, Hanover Prize
Corio 5 Star Whisky Prize exh., Geelong Art Gallery
Frankston Art Prize exh., Australia Day weekend, 1974
[unidentified clippings in Arkley's files]
Inez Hutchinson Prize exh.
(Beaumaris? – see 1975)
The Musswellbrook Art Prize and Purchase Exhibition, 1974
[check-list in Arkley's files]
Perth Drawing Prize (?)
[acc.to Duncan 1991: 31, but not listed in Bio.1969-75 for 1974]
– (no details)
Portland Art Prize, 1974
Ronald Awards
Static/Dynamic Opposition (drawing): unidentified
Sulman Prize exh.
Winged (painting, 4½' square): unidentified (however, cf.Spray 14, for a reproduction of a smaller early work called 'Untitled 1971', still in Arkley's archive and identified on a 197
3 slide as 'Winged')
Tumut Art Prize
Turbulence (painting? 4' square) [honourable mention]: unidentified
Wangaratta Art Prize
Intoxication (painting, 4' x 6'): unidentified
Warnambool Caltex Prize
Flight (painting 5½' square): unidentified
Wollongong Purchase Prize