1995
1995 Works
Paintings
Works on Paper
Works on Paper Minor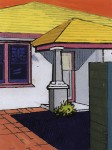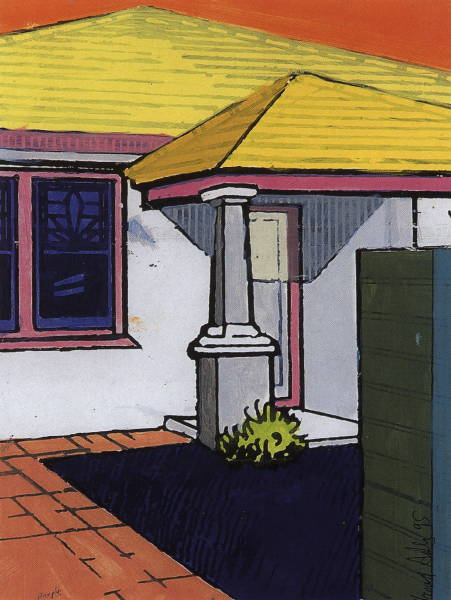 A number of Arkley's coloured photocopies of suburban house compositions (a favourite at auction in the years following his death) date from 1995.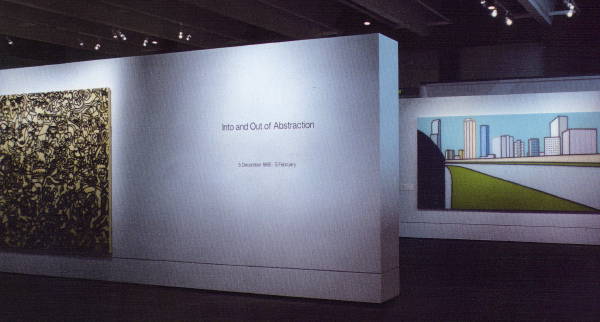 Arkley's status as a major mid-career Australian painter grew considerably during the year. At the same time – in fact, possibly as a direct consequence of his growing status and visibility (aka the 'Tall Poppy Syndrome') – his art began to attract harsher and more searching criticism than it had often received in the past. Two major exhibitions featured his work during the year.
In 'Downtown' (MOMA at Heide, 14 March -14 May), curator Juliana Engberg – who had written some of the most insightful earlier commentary on Arkley's art (see bibliography: 1987, 1988 and 1991) – set his work into creative connection with that of two of his heroes, Robert Rooney and U.S West Coast legend Ed Ruscha, in a stimulating reading of urban and suburban iconography. Arkley also contributed a major new ten-canvas work to this show: Outside-Inside-Out ('The Heide Installation'), a stylised suburban environment. In a strong critique of 'Downtown' in the Melbourne Age (1 April 1995), Robert Nelson charged Arkley with stereotyping suburbia, a view that infuriated Engberg (who wrote to Arkley expressing her disappointment with Nelson's article).[1] Nelson later renewed his attack in a highly critical review of 'Into and Out of Abstraction', curated by John McPhee at the NGV (Dec.1995-Feb.1996), where Arkley's work was again prominent (see installation photo above).[2]
Arkley's solo 'White + Black' exhibition at Tolarno in September surveyed his monochrome work across two decades, contrasting new and recent works (including a replica of Primitive, the original thought at the time to have been lost) with earlier examples, including several large canvases not shown since the mid 1970s. Robyn McKenzie, reviewing the show in the Age (20 Sept.1995) expressed concern about Arkley's recycling of earlier compositions in this show, neglecting the degree to which his work had always involved such strategies. The exhibition included a considerable number of new works on paper.
Arkley also continued to work with Peter Tyndall on the collaborative venture initiated the previous year, but the project was abandoned in September (see discussion under 1994).
1995 Exhibitions
– refer linked entry for full details
'Australian Art – Colonial to Contemporary', Deutscher Fine Art, Melbourne, May-June 1995
'The Derwent Collection: Australian Art of the 1980s and 1990s', Tasmanian Museum & Art Gallery, Hobart, 30 June-August 1995
(catalogue: Hammond 1995)
– refer linked entry for full details
12th Annual Spring Festival of Drawing, Mornington Peninsula Regional Gallery, 12 Nov. 1995 – 7 Jan.1996
(exh.cat.: artists' files)
'Into and Out of Abstraction' (cur.John McPhee), NGV, 5 Dec.1995-5 Feb.1996
(included works by Arkley, Gunter Christmann, Richard Larter & Dick Watkins; documents in Arkley files, including installation photos & reviews by Marsh 1996 & Nelson 1996); Arkley works listed below via details in
Spray
148]
'Australia Felix – Benalla Arts Festival'
[details via exhibition list in
Spray
130]
---
[1]
The letter is in Arkley's 1995 files; a few days earlier, the
Age
published a much more sympathetic review of 'Downtown', by their main art critic at the time, Robyn McKenzie (29 March 1995).
[2] Nelson 1996 (Age review, 17 Jan.); Anne Marsh wrote a considerably more positive account of the NGV show, and Arkley's contributions to it, in the Herald Sun (also 17 Jan.1996). It should be observed that Robert Nelson has made a successful career over the past decade and a half out of exactly this type of vigorous review, but such writing also earnt him the ire of Arkley and a number of his contemporaries during the 1990s. Nelson, usually consistent in his likes and dislikes, has generally maintained his distaste for Arkley: see in particular Nelson 2006 (reviewing the NGVA retrospective); but cf. Nelson 2001.