1993
1993 Works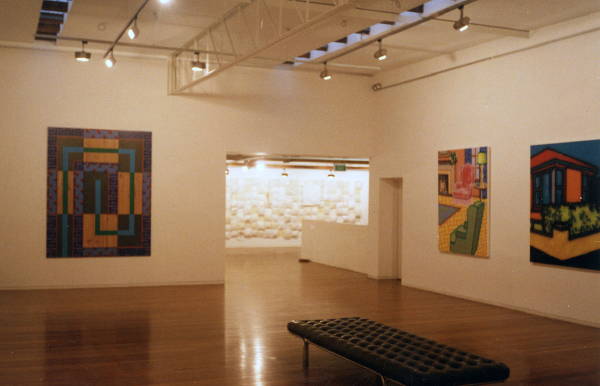 This was a year of consolidation for Arkley, marked by significant interstate and international exposure, and the acquisition of several key suburban images for major public collections.
Two suburban works appeared in a group show curated by Jeff Gibson at Roslyn Oxley9 in Sydney in April/May ('High Pop'); one of the paintings, Untitled 1988 [Hedge], subsequently entered the MCA collection in Sydney. Arkley's 'Recommended Rooms' exhibition at the Bellas Gallery in May/June comprised a series of patterned suburban interiors echoing and developing on his 1992 Tolarno 'Mix'n Match' show.
A major new suburban house exterior (Australian Home 1993) was shown at the Tolarno exhibit at Art Cologne in November, and later acquired for the Hamilton Art Gallery).
1993 Exhibitions
'Bendigo Art Gallery – Acquisitions 1992', Bendigo Art Gallery, 28 Jan.-28 Feb.1993
'Chandler Coventry: a Private Collection', Campbelltown (N.S.W.) City Art Gallery, 2 April – 2 May 1993
(exh.cat.: Garside 1993)
'High Pop', Roslyn Oxley9, Sydney, 28 April-15 May 1993
(cur.Jeff Gibson: Arkley, Zikos etc.; checklist and installation photo in Arkley archive: reproduced here)
– refer linked entry for full details
'Art Cologne', 11-17 Nov. (Tolarno exhibit)
(see documents in Arkley files)