1977
1977 Works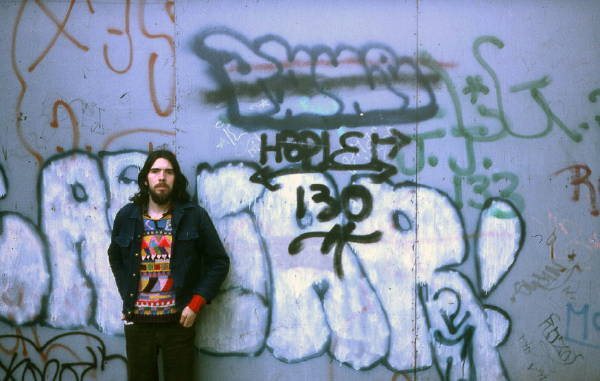 A watershed year in Arkley's life, marked by the death of his father in March (see
Spray
17 and Preston 2002:62), his first solo show outside Melbourne (at the Coventry Gallery in Sydney, in May), and his first trip overseas, with Elizabeth Gower, between August 1977 and February 1978.
Arkley and Gower's trip, funded by grants from the Alliance Française and the Australia Council, took them first to Paris, and then to New York, for extended working visits. Still in their mid 20s, the couple revelled in the experience – taking photographs, drawing, making notes, and collecting books and catalogues. While he was away, Arkley devised a novel artistic approach – later dubbed 'hotel art' (Brown 1989: 35 and Spray 23ff.) – making small portable works, sometimes translated into larger form later.
In Paris, he photographed historic gates and doors, prefiguring his subsequent photographs of Australian suburban flywire doors, and door-format paintings (1978ff.); in fact, door-shaped compositions already feature in Visual Diaries 6 and 7 (dating from 1976 and 1977 respectively): see further comments below, under 1978.
(photo: Arkley in New York, c.Nov.1977, wearing his 'Arkley' jumper [archive photo by Elizabeth Gower])
1977 Exhibitions
Corio Whisky Prize (Geelong, March 1977?)
[rev.Sturgeon 1977]:
– refer linked entry for full details
---