1986
1986 Works
Paintings
Works on Paper
Works on Paper Minor
Examples still in the artist's archive include 'Tudor' sketches, and a full-scale 'cartoon' for The Ritual.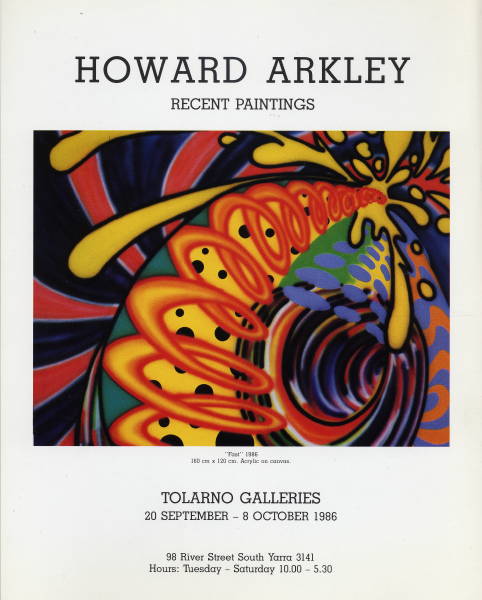 After several years of working mostly on paper, and developing numerous ideas and schemes in his sketchbooks and visual diaries, Arkley now returned decisively to painting.
His 1986 canvases reprised earlier themes – cacti, psychedelic imagery etc. – while also exploring new urban and suburban topics, including the Tudor village theme (for the '5AR' show in June). Nubrick and Our Home, two key examples of his developing suburban imagery, were included in the Tolarno show in September-October, where his style evinced a new clarity and edge.
1986 Exhibitions
'Slouching Towards Bethlehem', 200 Gertrude St., 14 April-17 May 1986 
(curated by Geoff Lowe; catalogue in Arkley's files)
'5AR: Artists & Architects 86', George Paton Gall., Melb.U., 5-27 June 1986 (curated by Val Austin; copy of catalogue in A = special issue of Transition June 1986; Arkley was teamed with architect Howard Raggatt)[1]
'Primal Painting', Heide, 1-27 July 1986 
(curated by John Nixon; catalogue in A)
refer linked entry for full details
'33 Men Painters', Heide
(curated by Caroline Williams; catalogue in A)
Hugh Williamson Prize, Ballarat Art Gallery
Untitled triptych 1986 (3 canvases, each 121 x 160) = Agave Parviflora 1985 and two unidentified canvases (ref. Ballarat catalogue 1986, reproducing the 1985 canvas)
'Victoria: views by contemporary artists' (touring exh.) Castlemaine etc.
---
[1]
Critics felt this pairing typified the rather undeveloped collaborative premise of this exhibition: see in particular Duncan 1986.