1989
1989 Works
Paintings
Works on Paper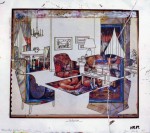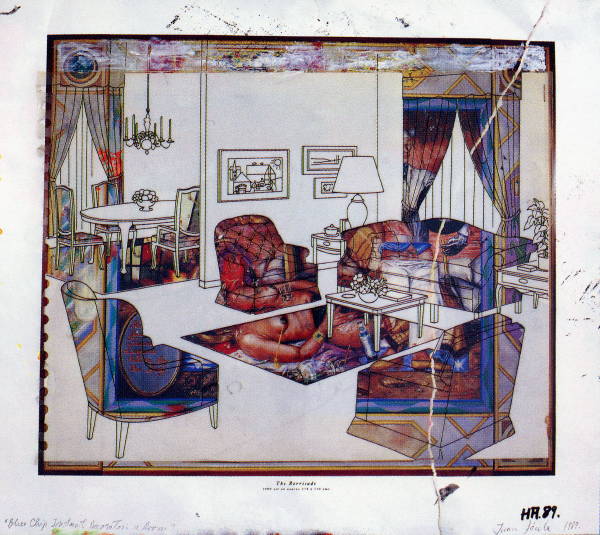 This work combines a reproduction of Davila's brooding 1989 painting The Barricade with the cheerily domestic 'Traditional Living Room' page from Arkley's copy of Gold's Instant Decorator.
Works on Paper Minor
Examples (many still in Arkley's archive) include working drawings for the factory theme, and collaged faces and heads.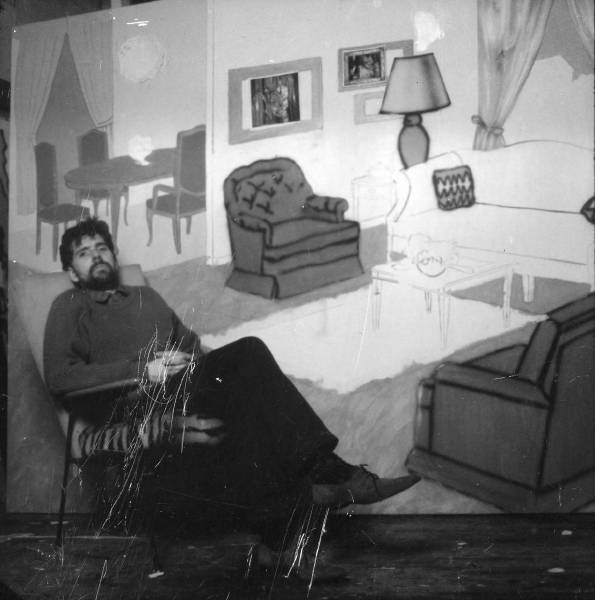 After the intense activity of 1988, this was a quiet year for Arkley, although he produced several significant new house paintings, and a large 'Shadow Factory'. In notes he made for a grant application (preserved in the artist's files; possibly for an Australia Council grant?), he observed that although he had now been exhibiting for 15 years, his career development was still hamstrung by lack of funds.
While doing some part-time teaching of painting at Moorabbin TAFE, Arkley met Alison Burton, and embarked on a relationship with her that would last until his death ten years later.
In April, controversy erupted over the State Library's acquisition of The Ritual 1986 (purchased in 1988): see e.g. Te Koha 1989, and the recent reflections on the purchase and responses to it in the major State Library publication, Carmody 2007: 1-5.
In May, Arkley travelled to Canberra for the exhibition of his major diptych House and Garden Western Suburbs (1988), newly purchased for the NGA; during the trip he took photographs later used to develop a new theme, the freeway.
In June, four of his cactoid canvases were shown at the Bellas Gallery in Brisbane. All four had previously been exhibited, some of them under different titles (refer individual entries for details).
1989 photos include shots of the artist wearing a Zappo Head mask (artist's collection: reproduced in Duncan 1991: 26 and Carnival Fig. 6.19). The photo reproduced here (from a scratched Polaroid original in the Arkley archive), shows the artist with one of the canvases from Blue Chip Instant Decorator – a Room (1991-2) [3/M], in preliminary form; the photo is labelled on the back by the artist: '11.9.89 by George, ex-student of mine'.
1989 Exhibitions
'The Intimate Object', 200 Gertrude Street, 4-25 Feb.1989
(catalogue in Arkley files; not illustrated – hence some details are uncertain, as noted)
'Doodle book, 1981' (described as '10.5 x 8 cms, hard cover bound book'): possibly a sketchbook – perhaps no.D19: see details under

Sketchbooks

'Doodle book: Courage my heart ('1980 ongoing'): see now

Mills & Boon books

'Hotel Art, 1976-77', each 5 x 10 cm, ink on newspaper & ink on watercolour paper: presumably smaller works comparable with Paper Construction (1978) [W/P]
'Schoolboy Art' [Homage to Scottie Wilson], 1967: 14 x 19 and 19 x 14 cm, ink & poster paint on paper: again, it is unclear exactly which examples were shown. – possibly the two reproduced in Spray 12
NGA exh., Drill Hall Gallery, ANU, Canberra, May 1989
'Howard Arkley', Bellas Gallery, Brisbane, 13 June – 1 July 1989 
(invitation in Arkley's files; check-list kindly forwarded by Hamish Sawyer of Milani Gallery, Brisbane, Nov.2008; all works listed as acrylic on canvas, 1200 x 1600 mm, $5,500 each):
'Heidelberg & Heritage' , Linden Gallery, St Kilda, 17 Aug.-3 Sept. 1989
(catalogue in Arkley's files, with check-list but no photographs). Some 200 artists donated over 300 works, all on 9 x 5 inch-sized panels, in a tribute to the famous '9 x 5' show held a century before.
[1]
're: Creation / Re-creation: the art of copying, 19th & 20th centuries', Monash University Gallery, 17 Oct.-25 November 1989
(catalogue in artist's files)
'A3 20', Store 5, 1st floor balcony, Maples Lane, Prahran, 11 Nov.1989
(group exhibition)
(unknown work): see now Delany, Pitch Your Own Tent (2005), pp.64 and 70
---
[1] The Linden exhibition, which coincided with a Lloyd Rees tribute exhibition, was opened on 17 August 1989 (the  same day the famous "Heidelberg School" exhibition opened a century earlier), by Margaret Whitlam; proceeds went to the Wilderness Society. Initial attempts in 2008 to find further information or photographs relating to Arkley's works in this show, through both Linden and the State Library of Victoria's art files (AAA), proved unsuccessful; many thanks to Sarah Linklater (administrative assistant, Linden Centre for Contemporary Art). However, see now the entry for Interstellar/Offcuts 1989, with new information forwarded by the owner in 2015.