1992
1992 Works
Paintings
Works on Paper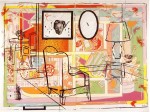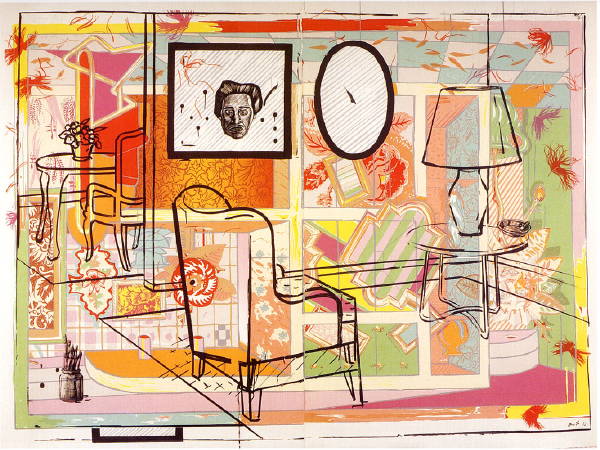 This is the major work-on-paper outcome of the collaboration between Arkley and Davila in the late 1980s/1990s.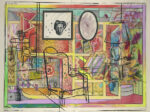 A key preparatory work for Arkley and Davila's screenprint on the same theme.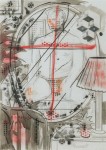 Collaborative work on paper related to Blue Chip Instant Decorator: a Room (1991-2) [3/M]
Works on Paper Minor
No examples noted (but see Visual Diaries D 33 & 34).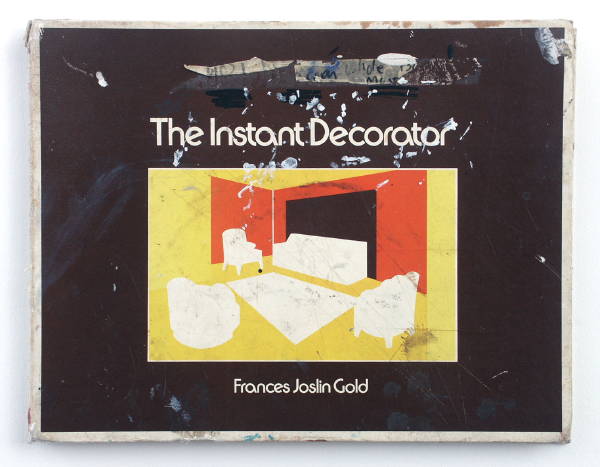 1992 saw the deaths of two figures central to the development of Arkley's career: his early champion Paul Taylor (aged only 35),[1] and Tolarno director Georges Mora, with whom Arkley had exhibited ever since 1974, and who had become a kind of father figure for him.[2] Mora's assistant Jan Minchin, formerly a curator of Australian art at the NGV, took over at Tolarno and is still in charge there.
During the year, Arkley and Juan Davila did additional work on Blue Chip Instant Decorator: a Room (1991-2) [3/M], replacing the original rugs with stylized 'rugs', in the form of low wooden plinths: the work was shown in its revised form in the Melbourne Art Fair in October. For a good photograph of the work in this finalized state, see Spray 102-3.
Arkley spent much of the year working in his garage studio in suburban Oakleigh on the canvases for his 'Mix'n Match' exhibition at Tolarno in Oct./Nov. This was his first full show of suburban interiors, most of them elaborately detailed, and now including extensive use of patterning produced via stencils (a new development influenced by Alison Burton); for discussion of these works, including extensive quotes from interviews made with the artist at the time, see the Tolarno exhibition catalogue (Gregory 1992). Among various sources used by the artist to develop these images, a 1970s US home decorator manual, already referenced in the title and compositions of Blue Chip, loomed large: for details, see linked entry Gold's Instant Decorator.
1992 Exhibitions
Melbourne Art Fair ACAF#3, 1-4 Oct.1992
Paul Taylor Memorial exhibition, ACCA, Melbourne, 30 Oct.-8 Nov.1992 
– refer linked entry for full details
---
[1] Arkley's 1992 files contain a clipping of the Melbourne Age's obituary for Paul Taylor; see also Taylor 1995, a posthumous collection of his influential articles and interviews, including an informative introduction by Allan Schwartzman, and a complete bibliography of Taylor's writings. There are also various references to Taylor's involvement with Arkley's work in Carnival (refer Index).
[2] See now the obituary by Daniel Thomas in Art + Text 93, Sept.1992, reprinted in Christie's Melb. 24 Nov.1992 auction catalogue ('The Estate of Georges Mora')