Untitled [A341] (c.1974-76) [W/P]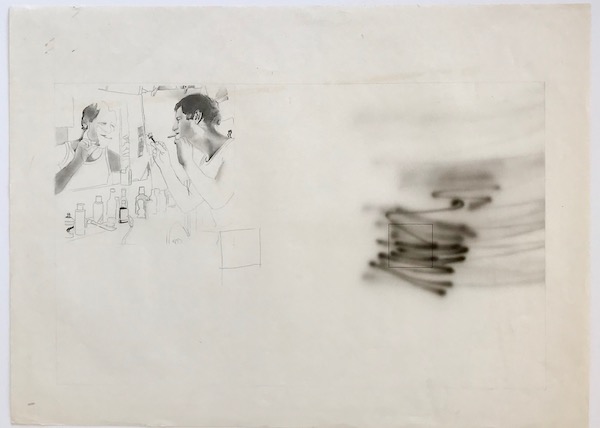 Synthetic polymer paint and ink on paper, 55 x 76 (sheet), c.40 x 64 (images)
Private collection, Melbourne
As in several other large-scale 'white' works on paper produced by Arkley between c.1974 and 1976-77, two contrasting drawings appear side by side within a pictorial field outlined in pencil (see now 'White' W/P cat.nos.241ff.).
Here, though, in what appears to be a deliberate experiment (rather than simply a matter of using the same sheet of paper for two different sketches), a realistic pencil drawing appears beside a typical abstract 'white' composition.
The man shaving is also the subject of a similar pencil drawing in Arkley's studio collection (not catalogued separately here).
= 'White' W/P cat.no.257A
Provenance
artist's collection (no.A341)