1981
1981 Works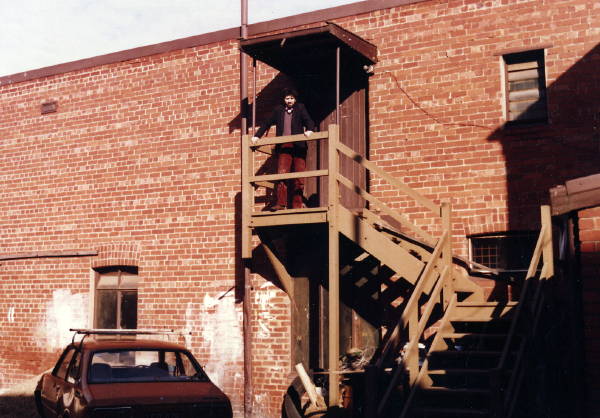 During the first half of 1981, Arkley was working on various pattern-based projects, including the completion of Muzak Mural – Chair Tableau (1980-81) [3/M] (see 1980); plans for the large-scale application of his sprayed dot system in Wall Painting (Muzak Mural) (1981) [3/M], unveiled in Brisbane earlier in July; and a series of new patterned works shown at Tolarno (also early in July), and then later in Canberra (Solander Gallery, October).
However, in July, he dramatically transformed himself into a figurative artist overtly aligned with the lineage of Punk, graffiti and popular culture. In one sense, this change literally happened overnight: with his creation of Primitive [mural] (1981) [W/P] in his Windsor studio one night late in July – an episode given legendary status by Crawford and Edgar in 1997 (Spray 6-9), and since elaborated several times. On a deeper level, though, this breakthrough had been brewing for some years, as Arkley explored a plethora of cultural and artistic stimuli in the mid to late 70s, while experimenting privately with figuration in his sketchbooks and visual diaries (see separate entries).
Primitive itself, in its intricately detailed reference to events and stimuli surrounding him, was a sort of huge diaristic response to Arkley's everyday life, both actual and imaginary, in inner-city Prahran. In turn, it would provide him with a rich repertoire of imagery for future reference and adaptation.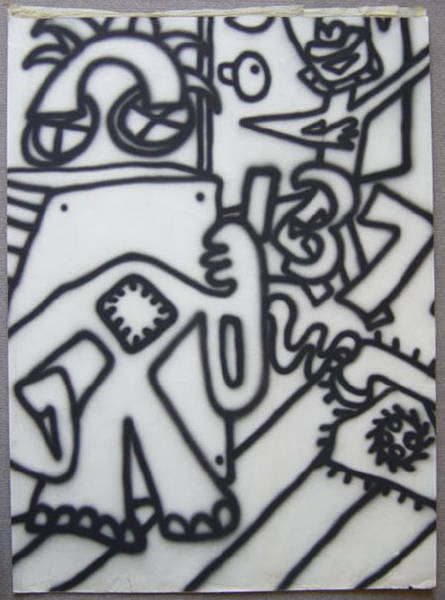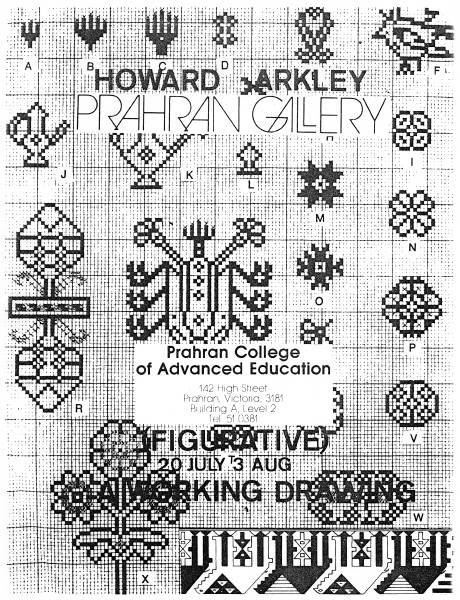 Key publications during 1981 (for details, see bibliography) included a major Age review of Arkley's Tolarno show by Robert Rooney; Paul Taylor's influential article on Arkley and his contemporaries' contribution to 'new wave' and 'second degree' developments in Australian art, published in the inaugural issue of Taylor's new journal Art + Text; the catalogue essay for Arkley's Muzak Mural installation at the IMA in Brisbane (also by Taylor); and an article in Art & Australia by Janine Burke, emphasising Arkley's participation in the development of domestic alternatives to mainstream tendencies in contemporary abstraction.
Photos dating from 1981 include several of Arkley and friends taken at Paul Taylor's South Yarra flat after the opening of Arkley's Tolarno exhibition on 4 July (photos by Elizabeth Gower et al. in Arkley's archive; example reproduced in Carnival Fig.4.3).
1981 Exhibitions
Australian Perspecta, AGNSW, May 1981
(curated by Bernice Murphy)
– refer linked entry for full details
'Howard Arkley: Wall Painting (Muzak Mural)', Institute of Modern Art, 24 Market Street, Brisbane, 7-30 July 1981
'Howard Arkley: (Figurative) – A Working Drawing', Prahran College of Advanced Education Gallery, 20 July-3 August 1981
(flyer reproduced here [archive copy])
John McCaughey Memorial Art Prize 1981, National Gallery of Victoria, 19 Aug.-27 Sept. 1981
– refer linked entry for full details
1981 Capital Permanent Award, Geelong Art Gallery, late 1981 – 17 Jan.1982