1973
1973 Works
Paintings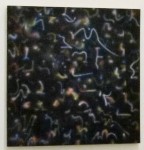 This work apparently won the Caltex Alva Prize in Morwell in 1973.
Unidentified painting entered in the Bunbury Art Prize, Western Australia, in 1974 (prize-winner?).
Works on Paper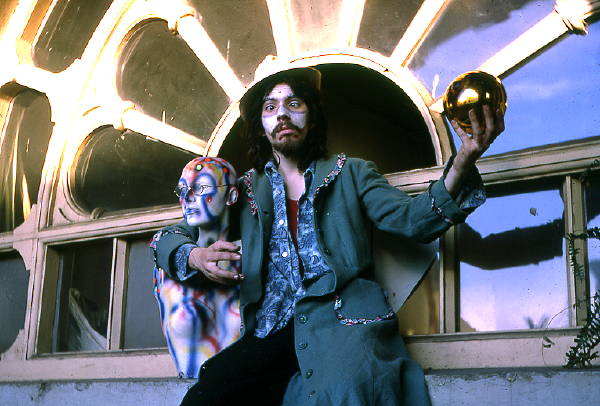 Arkley completed his diploma at Prahran, exhibited in a student show at Hawthorn City Gallery, and submitted several works to art prizes during the year. He and Elizabeth Gower moved into a shared studio space at 282 Chapel Street, Prahran (there are numerous photos in the Arkley archive, e.g. the example shown here). Arkley's files also contain slides dating from July 1973, showing the couple on holiday in Sydney (with John Nixon and Jenny Watson). In December, Arkley and Gower were married: see photos in Arkley's archive (and wedding photo in Preston 2002, facing p.118).
A significant group of works on paper dates from 1973 (some exhibited). Several of them are based on the same formal idea of drawn or sprayed marks against a dark background as Carbonite (1973), which earned Arkley first prize in the Caltex Alva Prize and was then acquired for the La Trobe Regional Gallery, Morwell.
1973 Exhibitions
(details here via Duncan 1991:16 & 31, and HA Bio.1969-75)
'Four Painters', Hawthorn City Gallery
3 paintings and 6 drawings, unidentified (acc.to Bio.1969-75)
Minnie Crouch Prize exh., Ballarat Fine Art Gallery, 21 March-25 April 1973
Perth Prize for Drawing International exh., AGWA [cat.in Arkley's archive, listing title]
Caltex Drawing Biennial?
[acc.to Bio.1969-75]
2 drawings: Germinating (1973?) [W/P]; Reading (1973?) [W/P] (each 24" x 32"; each priced at $55, acc.to roneod check-list in Arkley's files, headed '"Festival of Drawing" – Supplementary catalogue': details yet to trace)
Caltex Alva Prize exh., La Trobe Regional Gallery, Morwell, 1973
Corio 5 Star Whisky Prize exh., Geelong Art Gallery, c.Dec.1973
The Ronald Prize 1973
(ref. Bio.1969-75: no other details)