1997
1997 Works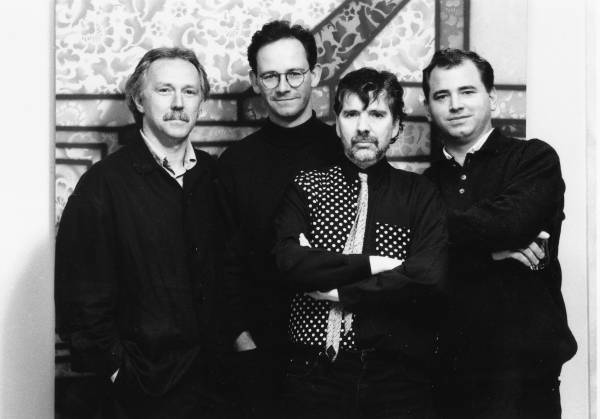 1997 was a momentous year for Arkley, culminating in a sequence of major successes. In August, he won the Kedumba Drawing Prize for a work-on-paper house in the lineage of his 'Pointillist Suburb' series. He devoted most of his energies during the year to completing the first version of his magnum opus, Fabricated Rooms, unveiled at the Art Gallery of New South Wales on 9 November. A few days later, the Benalla Art Gallery's purchase of Arkley and Davila's Blue Chip Instant Decorator was announced; and then, on 22 November, Ashley Crawford and Ray Edgar's new monograph, Spray: the Work of Howard Arkley, was launched at Tolarno, together with a selected show of the artist's work.
Fabricated Rooms, although generally well received in Sydney, met with a luke-warm response from John McDonald, one of several prominent Australian critics who has been dismayed over the years by Arkley's suburban project – of which this work is clearly the summation. Despite his qualms, however, McDonald did admit to finding Arkley's work 'intriguing', developing a thoughtful if ultimately negative critical response in his detailed review.
Spray, published by Craftsman House, is a substantial study exploring the complexities of Arkley's artistic philosophy in considerable depth, drawing on a series of interviews conducted with him in 1995-6. The authors, who had collaborated on various earlier projects, and had both written enthusiastically on Arkley's art in the past, respected his desire for a serious study of his work, while also representing the more playful and anarchic aspects of his approach. The book is a lively read, by turns journalistic and analytical, and includes a good selection of Arkley's work up to 1996, including a comprehensive bibliography and exhibition details.[1]
1997 Exhibitions
'The Embellished Egg', Mornington Peninsula Regional Gallery, 22 March – 4 May 1997
'The Vizard Foundation Art collection of the 1990s', Melb.Uni.Mus.of Art touring exh., April-Sept.1997
(Hamilton, Geelong, Bendigo AG; copy of catalogue in artist's archive)
'The Urban Edge: Historical and contemporary works from the Queensland Art Gallery collection', QAG etc., April 1997-Feb.1998
[brochure etc.: Arkley archive]
Kedumba Drawing award 1997 (NSW), 22 Aug.-6 Oct.1997
[brochure & press information in Arkley archive]
'Howard Arkley: Fabricated Rooms', AGNSW 9 Nov. 1997-5 Jan.1998
'Spray: the work of Howard Arkley, Tolarno  22 Nov. – 20 Dec.
(accompanying launch of Crawford & Edgar's book; the following works appear to have been included):
---
[1] For reviews of Spray, see 1997 bibliography under Boyd, McKenzie (Herald Sun 9 Dec.), Rooney (Australian 12 Dec.), and Steele; a revised edition of the book appeared in 2001, with a new last chapter.
[2] In an email to Arkley Works (Nov.2013), Terence Hogan corrected some of the details previously provided for this photograph, noting that it was taken at the same time as Pleban's photo of the two authors reproduced on the dust-jacket of their book. The present photograph was also reproduced in Crawford's Arkley obituary in Art & Australia vol.37.3 (2000), p.375.