Oriental (Wave Study) 1974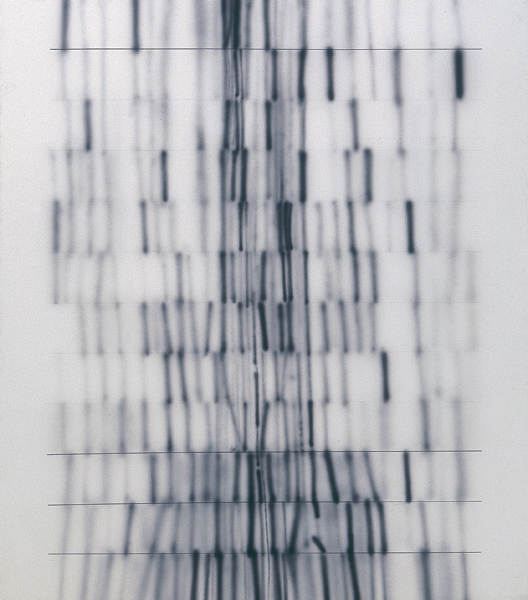 Alternate title: Second Tracing
Synthetic polymer paint on canvas, 183.5 x 161.5
signed and dated [on reverse: H.Arkley '74]
Private collection, Melbourne
Reviews of the 1975 Inez Hutchinson Prize by both Alan McCulloch and Bernard Boles clearly identify this canvas as the prize-winning work shown there, as 'Second Tracing'. Boles' extended remarks (in the June 1975 Nation Review) constitute the first significant critical appraisal of Arkley's style.
The painting was then shown as Oriental (Wave Study) at Tolarno in 1976 and in the 1991 Monash Arkley survey. 'Second Tracing' is listed as an alternative title in Spray research notes c.1996 (copy in Arkley's files).
Either this canvas or (more probably) the related painting Winter Notations 1975 may be identical with Doomsday Notations (1975), an unidentified canvas shown in Arkley's first solo show at Tolarno in April 1975.
There are several related 'white' drawings: see now Study for Oriental Wave Study #1 [A94] (1974) [W/P] and Study for Oriental Wave Study #2 (1974) [W/P]. It is unclear whether these were literally preparatory studies for the present canvas, or simply variations on the theme.
Provenance
with Deutscher Brunswick Street (acc.to HA Monash 1991)
auctioned by Sotheby's, Melb., 19-20 Aug.1996, lot 272 (ill.: as 'Untitled'; est.$5-7,000; sold for $6,750, plus buyer's premium)
Exhibited
Inez Hutchinson Prize, Clive Parry Galleries, Beaumaris, Melb., June 1975 (as 'Second Tracing')
HA Tolarno 8/76, cat.4, as Oriental (Wave Study) (size given as 160 x 210 cm)
HA Monash 1991, cat.7: as Oriental (Wave Study) 1974 (details as above).
HA TarraWarra 12/15-2/16
Literature
Boles 1975 (review of the Inez Hutchinson Prize)
McCulloch 1975 (Melbourne Herald 19 June 1975: also reviewing the Hutchinson Prize)