Study for Actuality [Monash #1] (1974) [W/P]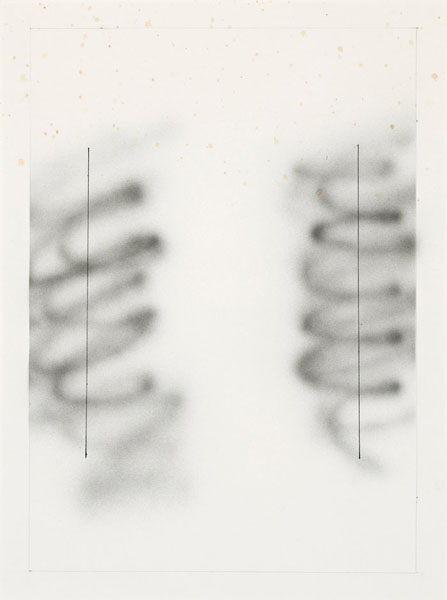 Synthetic polymer paint on paper, 41 x 31
signed and titled [on reverse, according to Deutscher & Hackett 8/09]
Coll.: unknown
One of two related works on paper shown in HA Monash 1991 (both from the artist's collection): see also Study for Actuality [Monash #2] (1974) [W/P] (unidentified). This example was photographed for the Monash Visual Arts slide library in 1991, showing it the other way up.
During the 1990s, it may have been shown in Arkley's 'White + Black' exhibition in 1995 (cat.8: 'Actuality study 1975', as 36 x 28 cm), and it may also be identical with an 'Actuality study' (also described as dating from 1975) donated by Arkley to an ACTU charity auction in March 1999 (although both these suggestions must remain hypothetical, given the lack of photographic evidence).
In August 2009, this work appeared at auction with Deutscher & Hackett, Melbourne, unfortunately in what seems to be poor condition, to judge from the auction photo, reproduced here, which indicates some apparent foxing or similar damage to the upper half of the sheet.
= 'White' W/P cat.no.85
Provenance
artist's collection (shown thus at Monash in 1991)
subsequent history unknown until 2009 (but see comments above)
auctioned by Deutscher & Hackett, Melb., 26 Aug.2009, lot 87, as 'Study for Actuality, c.1970' (details as above; ill., accessed via AASD; est.$1,800-2,200; sold for $1,000 plus buyer's premium)
Exhibited
HA Monash 1991, cat.6, as 1974, artist's collection; size given as 36 x 25.7; see also comments above