1985
1985 Works
Paintings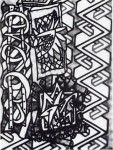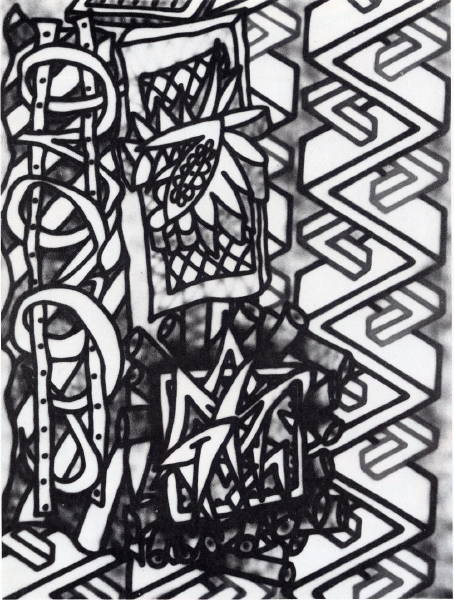 Installation photos (Arkley archive) indicate that this work was first exhibited at Tolarno in 1983 with the title 'Peel of the Orange'.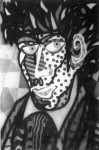 This variant of Arkley's 1983 canvas was auctioned in Melbourne in 1992.
Works on Paper
Works on Paper Minor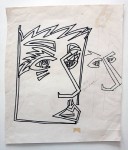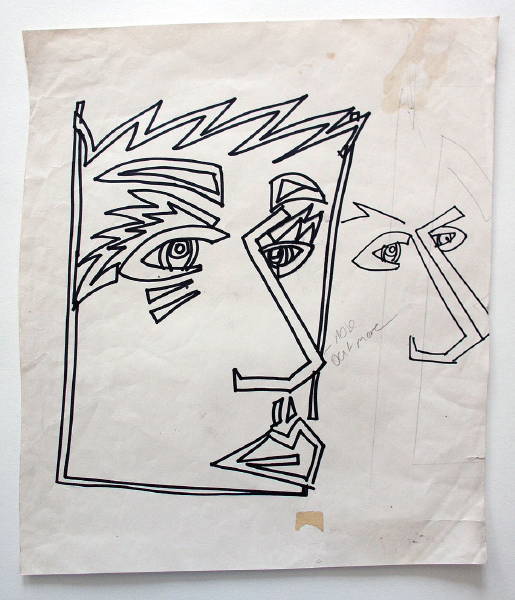 Various minor works on paper dating from 1984 include a number in the doubled line technique he was experimenting with at the time.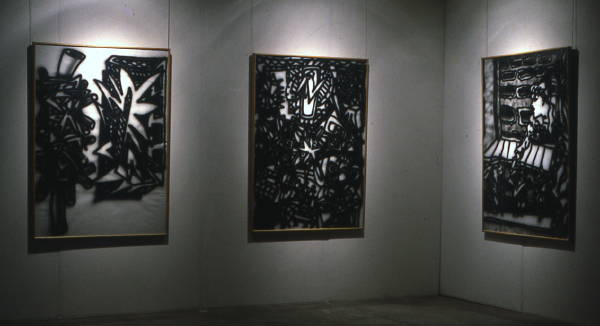 As in 1984, Arkley produced very few works on canvas. Nevertheless, he was again very active, producing a number of major new works on paper. As his sketchbooks and visual diaries from this period demonstrate, his mind was teeming with ideas for works and exhibitions, many of which never eventuated (see now Carnival, esp.126ff., for a discussion of Arkley's 'virtual oeuvre'). His one-man exhibition at Quentin Gallery, Perth, in February-March, constituted a virtual survey of his career to date, assembling the largest group of his works prior to the Monash survey in 1991.
'Zappo Head', later such a distinctive signature image for Arkley, made its first appearance early in 1985, in a special issue of Tension magazine, and also (apparently) as one of the works shown in the Quentin exhibition: see Zappo Head [Visual Tension] 1985 [W/P] and Zappo Head (1985?) [W/P].
During the year, Arkley also produced a series of large-scale work-on-paper figures in an idiosyncratic double-line technique, possibly designed to serve as a drawn equivalent for his own sprayed line.  A formal point of reference for this unusual doubled line is suggested by André Masson's ink drawing of André Breton (Paris, Pompidou Centre, 1941), recently exhibited at the Gallery of Modern Art, Queensland Art Gallery, Brisbane, in the Pompidou Centre-sourced exhibition 'Surrealism: The Poetry of Dreams', 11 June-2 Oct.2011. Masson's sketch, which employs a comparable faceted technique (and also includes a winged tower curiously reminiscent of Arkley's characteristic cactus shapes), may well have been known to Arkley, who had an abiding fascination with Surrealism: for comments on its key role in his early development, see Carnival 161-63.
These various double-line drawings by Arkley, together with several smaller finished drawings, and a number of sketches in the same technique, form a significant series; several of them were signed and dated (at least one clearly dated 1985: Untitled [Two Heads] 1985 [W/P]). It remains unclear whether these works were exhibited, though this seems to be implied by a set of Polaroid photos showing people juxtaposed to some of them, e.g. Untitled [Man in Suit] (1985?) [W/P]. These photos also relate to a scheme in no. D19 in Arkley's sequence of Visual Diaries (dated May 1985), for 'couples' in conversation: see now Carnival Fig.4.46.
1985 Exhibitions
– refer linked entry for full details
'Visual Tension', Australian Centre for Contemporary Art, Melbourne, 19 Feb.- 18 March 1985
'Meaning & Excellence: ANZArt in Edinburgh', George Paton Gallery, Melb. U., 20 Feb.-20 March 1985
(for details of works shown, see 1984; review of the Melbourne show: Trebilcock 1985)
'6 Drawing', Tasmanian School of Art, Hobart, 9-28 Sept.1985
(curated by John R.Neeson; slides and catalogue in Arkley's files; the other 5 artists were Irene Barberis, Paul Boston, Janenne Eaton, Adrienne Gaha and Gareth Sansom; Arkley works all listed as SPP on P, 112.5 x 152, 1984)
'Victoria – views by contemporary artists', Benalla, Castlemaine & Geelong, 10/85-1/86