Primitive [mural] (1981) [W/P]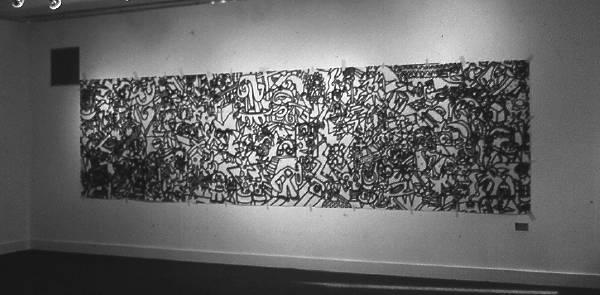 Synthetic polymer paint on paper, 150 x 560 (originally on 20 sheets, each 75 x 56; one sheet now missing)
Private collection, Melbourne
Widely acknowledged as a key work in Arkley's development, this large-scale drawing is reproduced here as installed at Prahran CAE in July 1981 (slides with process date Aug81). Elements of the artist's everyday and imaginative life are drawn expansively, using a black air-brushed line.
The authors of Spray (clearly relying on the artist) consider the genesis and imagery of the work in detail, describing it as the product of 'one night of frenetic outpouring', discussing the various circumstantial events referenced (a telephone, a knock at the door, and so on), and identifying the title as borrowed from a song by Punk band The Cramps. Arkley, as quoted in Spray, later claimed that 'this work set off my career'; and it clearly signalled a radical shift from his previous non-figurative practice. In fact, its production and display coincided exactly with the exhibition of several of his mature pattern-dominated works, at Tolarno in Melbourne, and Brisbane's IMA: see now 'Howard Arkley: Recent Works', Tolarno, July 1981, and Wall Painting (Muzak Mural) (1981) [3/M].
In an extended analysis in Carnival (2006), I relate the teeming iconography of the present work to aspects of the carnivalesque traditions of 'grotesque' humour and sexuality (as analysed by Russian cultural theorist Mikhail Bakhtin), noting the origins of much of the imagery in Arkley's 1970s diaries and sketchbooks, and (conversely) emphasizing the significance of the large scale on which this work is conceived.
In the catalogue of the 2015-16 Arkley exhibition at TarraWarra, I reconsider the key place of this work in Arkley's oeuvre. Downplaying the mythic story of its creation, I emphasize instead its relationship to fundamental critical developments of the period, notably Paul Taylor's theorization of Arkley and his peers as 'New Wave' and 'Popist'. I conclude that music historian Simon Reynolds' notion of 'postpunk' is probably the most valuable frame of reference within which to consider Primitive and Arkley's subsequent figurative development through to 1984. See also Chris McAuliffe's essay on Arkley and music, also in the TarraWarra catalogue: see Fitzpatrick & Lynn 2015 as cited below.
Arkley is quoted in Spray as saying the work had been reduced to a ruined set of fragments by the 1990s, necessitating the production of a 'replica' for the 'White + Black' show at Tolarno in 1995: see Primitive (1995) [W/P]. After his death, however, the original work was rediscovered in his studio, admittedly in poor shape, with one sheet missing, several others badly damaged, and masking tape adhered to others. Nevertheless, the overall effect was extraordinarily impressive, and the decision was made to restore the work for the Arkley retrospective in 2006-7, shown there, and subsequently, with the missing sheet (3rd from the right on the bottom row) replaced by a facsimile.
Provenance
artist's collection
Private collection, Melbourne
Private collection, Melbourne, 2019 (acquired from the above)
Exhibited
Prahran CAE, 7/81
HA retrospective 2006-7 (restored; as 120.5 x 403 cm; shown at all 3 venues)
HA TarraWarra 12/15-2/16
Literature
Spray 6-9 (including the quotes above; with ill.)
Carnival 165-69 and Figs.6.6 and 6.8-10 (details)
Smith 2006:14-15 (inc.ill.)
NGVA Arkley audio-guide 2006 (comments by Ashley Crawford, Jason Smith & Ray Edgar)
Fitzpatrick & Lynn, Howard Arkley and Friends (2015), pp.26-28 (John Gregory: 'Popism, Postpunk and Primitive') and 30-38 (Chris McAuliffe,'Raw power meets electronic music sounds: Howard Arkley and popular music'), esp.34