Primitive Gold / Primitive Silver 1981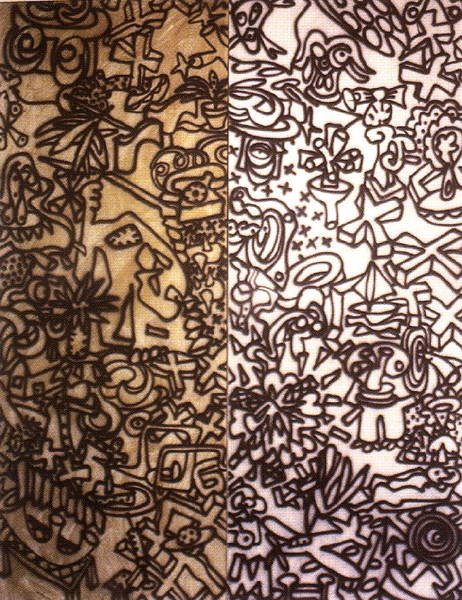 Synthetic polymer paint on 2 canvases, 203 x 153 overall
signed, dated and titled [on reverse]
The Michael Buxton Collection, Melbourne
This diptych may correspond to the pair of works shown as 'Primitive Gold' and 'Primitive Silver' at the Quentin Gallery in Perth in 1985 (see now the detailed entry on that exhibition: HA Quentin 2/85). However, it was first certainly recorded at auction with Sotheby's in 1995 (see below).
In style and imagery, these canvases are obviously closely related to Primitive [mural] (1981) [W/P], Primitive Gold 1982 and Primitive Silver 1982.
Provenance
P/C Brisbane (acc.to Sotheby's 1995)
auctioned by Sotheby's, Melb., 28 Nov.1995 (suggesting inscribed date of 1989; est.$7-10,000; sold for $10,000 plus buyer's premium)
with Gould Galleries, Melb., c.2000?
Exhibited
(possibly) HA Quentin, Perth, 2/85, cat.6-7 (priced at $2,000 together): see comments above
MOMA at Heide, 11/01-2/02 (Buxton Coll.)
HA TarraWarra 12/15-2/16
Literature
Sotheby's 11/95 auction cat. (with ill.)
Crawford 2001 (Buxton coll.cat.), p.11 (also with ill.)