Leaves and Flowers 1981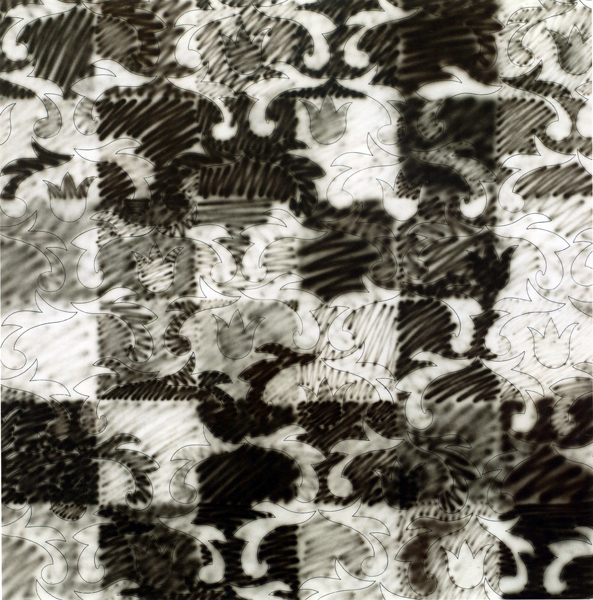 Synthetic polymer paint on canvas, 161.0 x 160.5
Signed, dated and titled (on verso: 'Howard Arkley 1981 / Leaves and Flowers / 160cm x 160cm / Acrylic on canvas' [Mossgreen 6/15])
Private collection, Sydney
This work, first shown in Arkley's "Recent Works" exhibition at Tolarno in July 1981, was previously identified provisionally via the artist's archive photographs.
In June 2015, it appeared in a Bonhams auction featuring works from private collections curated by John Cruthers (see also Lattice and Grids 1980 [aka 'Lattices']). Despite being in very good condition (considering its age), the canvas failed to reach its auction estimate, perhaps because it was seen as "atypical" (Raffan 2015).
In fact, it is an intriguingly transitional work, marking the shift from Arkley's more minimal early manner through to the decorative tendencies of his late 1970s/early 80s style. Ashley Crawford, discussing the present work in the 2015 Bonhams auction catalogue, comments: "[u]sing his trademark spray technique, each of the 36 panels is marked via a different level of intensity, from the minimal to the baroque." A similar variety of sprayed and linear monochrome detailing may be observed in Arkley's earlier corpus of 'white' works on paper: see now 'White' works on paper (c.1974-78).
The black and white grid treatment here is also clearly reminiscent of the door-format Curvilinear with Grid 1978.
Provenance
artist's collection
Niagara Galleries, Melbourne
acquired by present owner in 1989 [presumably identical with a work listed as 'Black & White (Floral)' in book of sales in Arkley's archive as sold via Niagara in April 1989 for $7,000]
auctioned by Bonhams, Sydney, 16 June 2015, lot 8 (reproduction and details as shown here; est.$30-40,000; not sold)
Exhibited
Literature
Crawford 2015

Raffan 2015