1995 Works on paper (minor)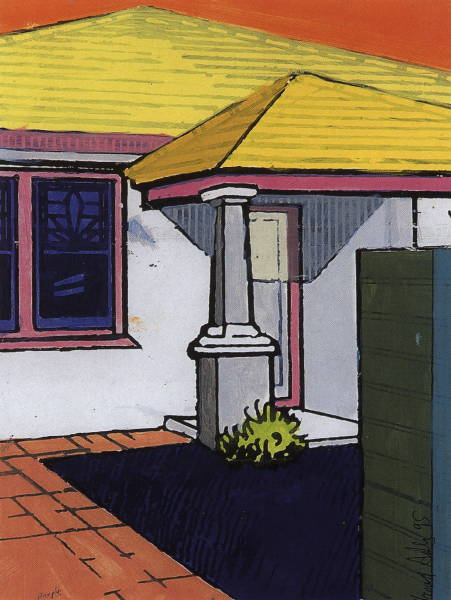 Other works on paper dating from 1995 (or thereabouts) include several coloured photocopies of house compositions, all approximately A4 sized. Examples include:
Untitled (s+d 1995), auctioned by Sotheby's, Sydney, 15-16 Aug.2000, lot 91 (as 'Study for Floriated Residence'; with catalogue illustration; sold for $4,500 plus buyer's premium): composition used for both Stucco House (1988) and Floriated Residence (1994). This work – reproduced at left – subsequently re-appeared, under the title 'House Front', twice at auction with Joel's, Melbourne, 13 Dec.2009 (lot 52) and 28 Feb.2010 (lot 136A); and again at Bay East Auctions, Sydney, 24 July 2011 (lot 55).
Untitled (s+d 1995), auctioned by Deutscher-Menzies, Melb., 21 Aug.2000, lot 74 (as 'Small House'; with catalogue illustration; est.$5-6,000); composition used for Our Home (1986) and Spray Veneer (1994)
Three untitled examples (c.1995), auctioned by Leonard Joel, Melb., 16 Oct.2006, lots 171-3 (as 'Working drawings for Home series'; est.$4-7,000; lot 173 sold for $4000; not illustrated in Joel's catalogue)
See also Sketchbooks: no.29, a small pad dated 7 Oct.1995, with several drawings in back-fibre-tipped pen of cacti etc., some signed and dated; no.30 (1990s); and no.32 (1995 and 1998), including several drawings of cacti etc. signed and dated 1995. See also Visual Diaries: D 38 (photo album with source material, dating from c,1996-98); D 29 (exercise book dated March 1995 and labelled 'Heide'); D 40 (exercise book dated Nov.1995); D 41 (photo album, undated but probably dating from c.1995); and D 42 (folder of source material dated Nov.1995).