Outside-Inside-Out 1995 ['The Heide Installation']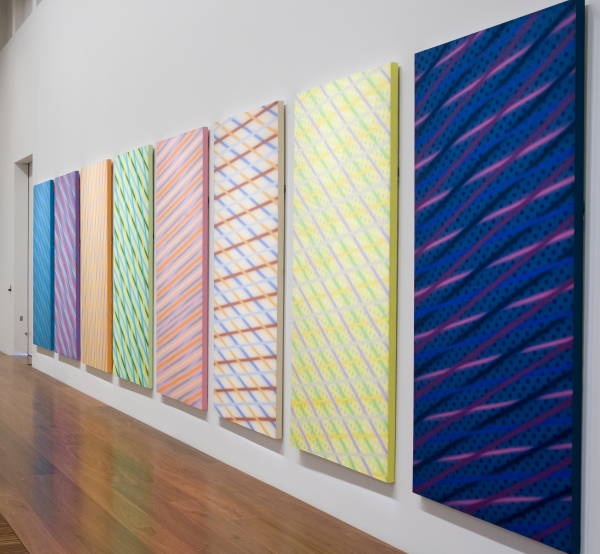 Synthetic polymer paint on 10 canvases, each 220 x 100
Corbett Lyon and Yueji Lyon Collection of Contemporary Australian Art, Melbourne
This series reprises Arkley's early 'door' canvases, but now in a more refined style, deploying criss-crossed lines of contrasting hues and angles to generate optical patterning, as in some of the 'Pointillist Suburb' canvases of the previous year.
Arkley's notes indicate that his first idea for this installation involved furniture components (as later realized in 'Sampling', 1998). As shown at Heide, in the 'Downtown' show for which it was made, the ensemble took the form of a stylized 'room' (see now Spray 118 and Carnival 59).
The reproduction here shows a partial view of the series as exhibited in the 2006-7 Arkley retrospective, this time in a straight sequence. For the canvases as shown in the Lyon Housemuseum (from 2009) – again in a separate room installation – see Fitzgerald 2010.
Provenance
purchased from Tolarno (date?)
Exhibited
Heide 3/95 ('Downtown': all ten canvases, arranged on the 4 walls of window room at Heide)
Korea 1996 ('Australia' Familiar and Strange'): 4 panels; HA Venice 1999 ('Home Show'): 6 panels
HA retrospective 2006-7: all ten canvases, arranged in a straight line (shown in Melbourne only)
Literature
Spray 118-9 (inc. photos)
Carnival 59 and Fig.2.7
Fitzgerald 2010