Letter-box Home [interior] 1995 [W/P]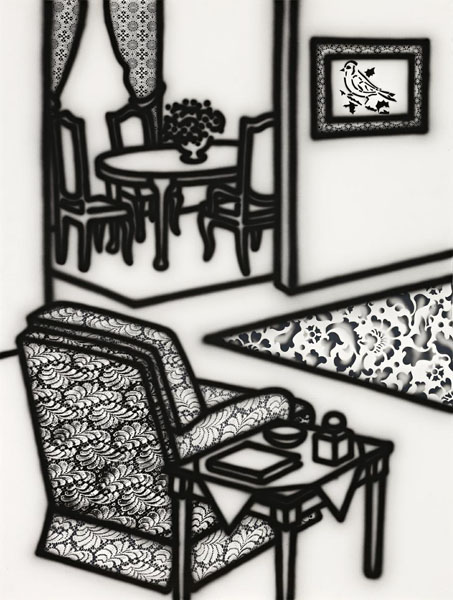 Synthetic polymer paint on paper, 160.0 x 120.5
Signed, dated and titled (on verso: '…Howard Arkley / … Letter-box Home / … 1995')
Private collection (auctioned by Deutscher & Hackett, May 2015) 
This work on paper came to light in 2015, when it was listed for auction with a history dating back to the mid 1990s.
One of a number of related works using similar suburban imagery, this example is most closely comparable with Room Within a Home (1995) [W/P], shown in Arkley's 'White + Black' show at Tolarno in September 1995 (cat.no.37). Only relatively minor variations distinguish the two works, which are on the same scale. The same stencils appear to have been used for the patterning of foreground chair, rug, and picture-frame in each work, although here a fourth stencil (apparently unique in Arkley's oeuvre) decorates the background curtains.
The foreground chair and table, which are based on a lounge room page in Gold's Instant Decorator, first appeared in Suparoom (1992), but Arkley first seems to have used this motif in combination with the background dining setting shown here in A Roomfull (1994). The foreground chair reappears in several later works, notably Fabricated Rooms (1997-9), where however the background dining setting has been replaced by the acid-green plastic furniture from Mod Style (1992) and Dining in a Glow 1993 (also sourced from Gold's designer book).
Confusingly enough, Arkley inscribed the present work with the same title as Letter-box Home (1995) [W/P]  (another monochrome work on paper also shown in Arkley's 'White + Black' exhibition at Tolarno, Sept.1995) – a suburban house exterior which actually does include a representation of a letter-box at the right margin.
Provenance
Acquired from the artist by Chris Deutscher c.1995
Private collection (gift of Chris Deutscher)
Scheduled for auction by Deutscher & Hackett, Melbourne, 6 May 2015, lot 8 (details and illustration as shown here; accompanying essay by Ashley Crawford; est.$30-40,000)