Floriated Address 1995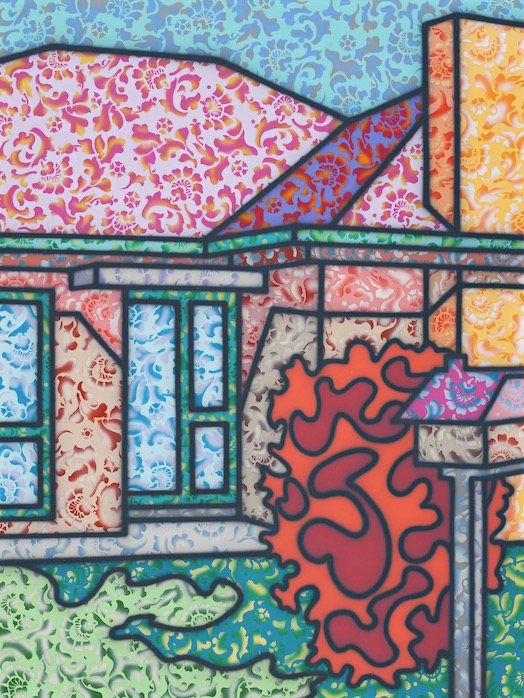 Synthetic polymer paint on canvas, 203 x 153
Signed, dated & titled (on verso)
Collection unknown (last auctioned August 2019)
This meticulous work is documented by a slide in Arkley's archive and a listing in his 1993-96 stock-book, noting that it was with Peter Bellas, Brisbane, in 1995.
It reprises the idea, first explored in Arkley's "Pointillist Suburb series" (Tolarno, Nov.-Dec.1994), of a single pattern repeated throughout one canvas, and specifically the floriated stencilled patterning of Floriated Residence (1994). Here, though, a new composition was chosen, one also used in 1995 for Letter-box Home (1995) [W/P], and then in 1996 for Houseomorphics (1996) and Floral Exterior (1996), both also employing the same floral stencil.
In 1995, Arkley also produced another large-scale canvas, Floral Facarde [sic] 1995, also using the same floriated stencil, but in a darker, more intense mode, and based on another suburban composition (one he had used several times before). By contrast, the present work has an airy, elegant character, more "Rococo" than "Baroque" (so to speak).
Provenance
Bellas Gallery, Brisbane
Private collection, Brisbane, acquired from the above in 1995
Bellas Gallery, Brisbane
Private collection, Sydney, acquired from the above in May 2000
Auctioned by Deutscher & Hackett, Sydney, 28 Aug.2019 (details and photo as shown here; est.$600-800,000; sold for $732,000 inc.B/P)