Ketoacidosis and Head (1995) [W/P]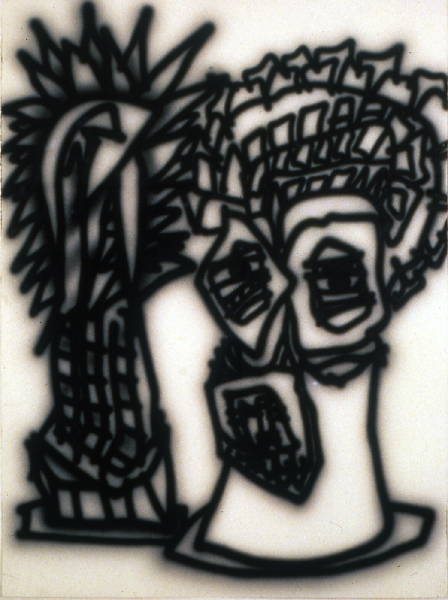 Synthetic polymer paint on paper, 160 x 121
Private collection, Melbourne
Exhibited in Arkley's 'White + Black' show at Tolarno in Sept.1995. Arkley's archive includes an undated slide showing this work in a private house, apparently from the 1996 'Compost' exhibition, in which works by Arkley and others were displayed in inner-suburban Adelaide houses.
The artist's archive also contains a related sketch of the head, signed and dated 1995 (Howard Arkley archive, SLV, MS 14217/1/915, reproduced in Fitzpatrick & Lynn 2015, p.78).
See also Two Gizmos (1994) (unidentified), possibly a related work.

Provenance
Exhibited
HA Tolarno 9/95 ('White + Black'), cat.40: details as here; $4800)
Adelaide Festival exh. 3/96 ('Compost'): see exhibition details in Spray 130
Literature
Sayers 1995 ('White + Black' exh. cat.), p.11 (ill.)
Holt 1996: 176-77 (describing this work as hung incongruously in a stylish townhouse)