Razz-Dazz (1984) [W/P]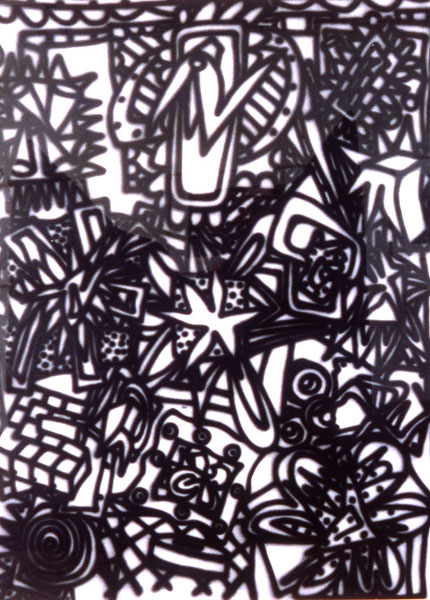 Synthetic polymer paint on paper, 152 x 112.5
Coll.: unknown
Exhibition archive photos included on the Roslyn Oxley9 website indicate that this work was first shown there in Arkley's May 1984 'Cacti and Succulents' exhibition, as 'Razz-Dazz'; a slide in Arkley's archive, untitled but with the Roslyn Oxley9 label, confirms the identification.
The following year, the work was included in the Hobart group show '6 Drawing' (and reproduced in the catalogue; see also installation slides in Arkley's archive), along with Lace-Lanced 1983 [W/P], also first shown at Roslyn Oxley9 in May 1984.
This particular work reprises Untitled (1982) [W/P].
NB this work was previously listed in the present catalogue as Untitled [Hobart] 1984 [W/P] (entry revised April 2022)
Provenance
Exhibited
Roslyn Oxley9, 5/84, cat.8: as Razz-Dazz, 110 x 150; priced at $800
'6 Drawing', Tasmanian School of Art, Hobart, 9/85, cat.2 (no title given, size as shown above; reproduced in the catalogue: see below)
Literature
Neeson 1985 ('6 Drawing' exh.cat.), p.5 (ill.)