Jap Head 1985 [W/P]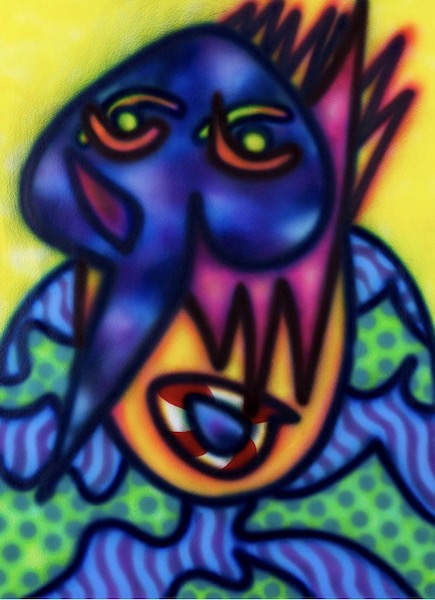 Synthetic polymer paint on paper, 75 x 55
Signed & dated l.r.: 'Howard Arkley 85' (and also signed, dated & titled verso, according to Art Nomad 10/21)
Private collection, Melbourne
The correct details for this work, as shown here, were kindly forwarded in October 2021, together with a good photograph (many thanks to Peter Anderson of Art Nomad).*
It is evidently identical with 'Japanese Portrait,' as shown in Arkley's Quentin exhibition in February 1985 (previously unidentified). Despite the title, the work has little to do with Oriental head sources in Arkley's studio collection. Instead, it relates closely to earlier studio sketches, notably a distorted head with elongated nose dating from c.1982 [A331]. The title reappears in a list of possible subjects for the 1990 'Head Show,' in Visual Diary no.27 (1989): 'Jap Head – Orient features' (see Carnival, p.134).
* NB the present work was previously listed in this catalogue, incorrectly, as Head of Science (1985?) [W/P], with a photo based on a Tolarno installation slide in Arkley's archive (process date Oct86), showing it hanging with Picasso Face (1985) [W/P] and Zappo Head (1985?) [W/P].
Head of Science (1985?) [W/P], also shown at Quentin in 1985, was evidently a different work, and has now been listed as unidentified.
Provenance
Tolarno Galleries, Melbourne
With John Buckley, Melbourne
Private collection, Melbourne, c.1982-2021 (purchased from the above)
With Art Nomad, Melbourne, 2021 (purchased from the above)
Exhibited
HA Quentin, Perth, 2/85, cat.no.16, as 'Japanese Portrait' (priced at $700)
? unidentified exh. at Tolarno 1986 (slide with process date Oct.86)