Zappo Head 1985 [W/P]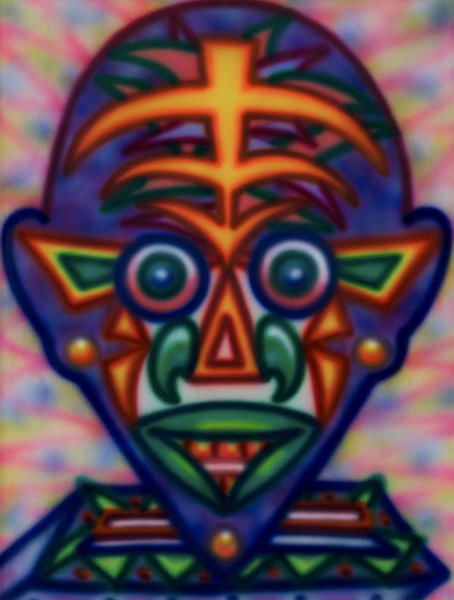 Synthetic polymer paint on paper, 75 x 55
Signed, dated & titled (on verso, according to Art Nomad 10/21)
Private collection, Melbourne
The correct details for this work were forwarded in October 2021, together with a good photograph (many thanks to Peter Anderson of Art Nomad).
Although dated 1987 in both the 1991 Monash Arkley exhibition, and Spray (in each case with variant dimensions), it was presumably identical with the work shown as 'Zapped Head' in HA Quentin, Perth, Feb.1985. The following year, it was photographed (slide with process date Oct86) hanging at Tolarno, with Picasso Face (1985) [W/P] and Jap Head 1985 [W/P], both of which were shown at Quentin in 1985.
See also Zappo Head [Visual Tension] 1985 [W/P], the graphic variant published in Feb.1985, and the two related canvases Zappo Head 1987 [Bendigo] and Zappo Head 1987 [Oxley].
Provenance
Tolarno Galleries
Private collection, Melbourne
With Art Nomad, Melbourne
Exhibited
(probably) HA Quentin, Perth, Feb.1985, cat.15 ('Zapped Head', priced at $700)
unidentified exhibition at Tolarno, 1986
HA Monash 1991, cat.70: dated 1987, size given as 160 x 122
Literature
Spray 73 (ill.: as 1987, 160 x 122)