The Triffids [poster] 1985 [W/P]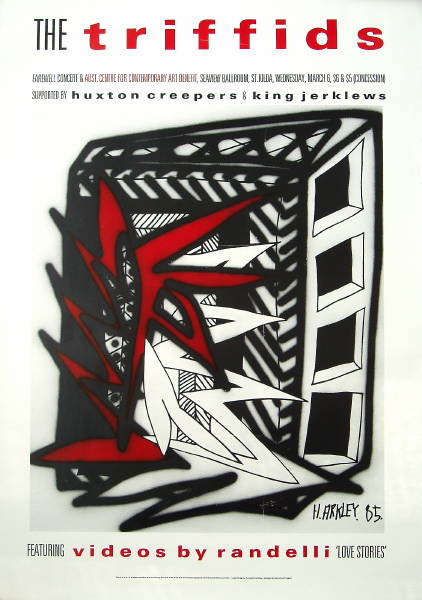 Poster (multiple edition), 68.5 x 56.5
signed and dated [in print, l.r.: 'H.Arkley.85']
Coll.: various
The image is a variant of the exploding box motif Arkley first used for the invitation for 'Howard Arkley: Urban Paintings', Tolarno Galleries, Oct.-Nov.1983 (see exhibition entry for a reproduction). For remarks on the present work, see Carnival 169. Several impressions with further additions by the artist appeared on the art market after his death (see below under 'Provenance').
This poster is now a collector's item, especially among fans of the legendary Australian band: see http://en.wikipedia.org/wiki/The_Triffids (a detailed and well-referenced article, regularly updated; last accessed 17 Nov.2009); and Chris Coughran & Niall Lucy (eds.), Vagabond Holes: David McComb and The Triffids, Fremantle: Fremantle Press, 2009 (a richly varied set of reminiscences and essays).
Arkley's poster dates from the group's brief visit to Australia early in 1985, shortly before returning to London to record their acclaimed album Born Sandy Devotional (see now the documentary film Great Australian Albums – Born Sandy Devotional, SBS Australia, 2007). Despite some obvious differences, suggestive parallels may be detected between the work of Arkley and The Triffids' lead singer and songwriter David McComb, who died, aged only 36, in February 1999, not long before Arkley himself.
Provenance
version with added colour auctioned by Deutscher-Menzies, Melb., 24 Nov.1999, lot 170 (ill., as 91 x 58.5; est.$800-1,200; sold for $3,000 plus buyer's premium)
version with added detail and a second signature auctioned by Deutscher-Menzies, Melb., 3-4 May 2000, lot 355 (ill.; est.$3-400; sold for $6,440)
another version with added detail and a second signature auctioned by Menzies, Sydney, 24 Sept.2014, lot 330 (ill.; described as "acquired directly from the artist at The Triffids concert, St Kilda, 1985"; est.$3-5,000; sold for $3,682 inc.B/P)
Literature
Carnival 169 and Fig.6.12