Untitled 1985 [W/P]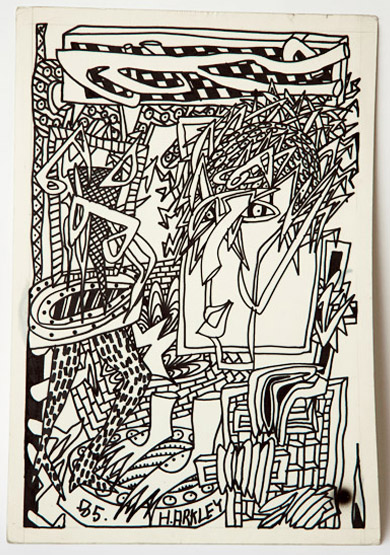 Black fibre-tipped pen and synthetic polymer paint on paper, c.38 x 25 (according to owner)
Signed and dated (l.l., within image: '85. H.Arkley')
Private collection, Melbourne
According to the present owner, this highly characteristic finished 'doodle' was given to him by the artist, in return for picture-framing work.
The imagery includes several motifs found in other works dating from 1983-85, notably the prominent disembodied feet to the lower left – these appear amongst Arkley's drawings for the catalogue of 'Comic Stripping' (1983), and in various other works of the time, e.g. Spot the Difference (Fast) 1983, where similar crystalline details also figure. The intricately-detailed head to the right relates directly to the doubled-line technique Arkley was experimenting with in 1985: see e.g. Untitled [Two Heads] 1985 [W/P].
For a related drawing, on a comparable scale, but dated 1990, see Untitled [Birthday drawing] 1990 [W/P].
Provenance
Given to the present owner by the artist c.1985 (information forwarded to Arkley Works May 2013, with photo and details as above)