Untitled ['The Sunshade Home'] 1997 [W/P]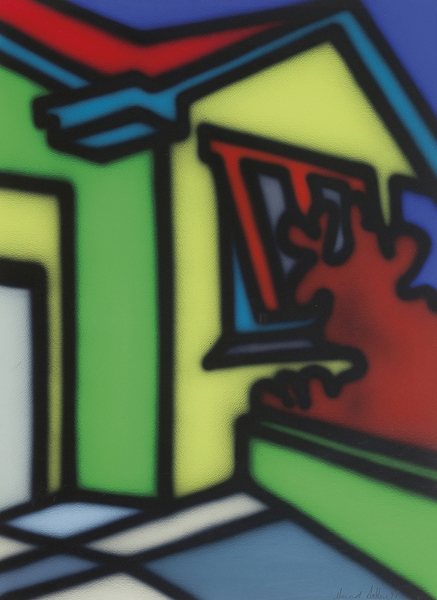 Synthetic polymer paint on paper, 74.5 x 54.5
Signed and dated [l.r., within image: 'Howard Arkley 97']
Coll.: unknown
Another variant of a favourite Arkley composition first used in Our Home (1986), and then in vertical format in Spray Veneer (1994) and several later works on paper, such as Dull Home 1998 [W/P], where, however, the line-work is bluish-grey.
The present example was acquired c.1998 in a group of late Arkleys, which also included two other works also based on the same composition: The Yellow Green House 1998 and Sun Shade Home 1998 [W/P].
There appears to be evidence of an unsuccessful attempt to erase traces of earlier sprayed line-work in the area of the red bush, in this work.
It is unclear whether the title 'The Sunshade Home' is original.
Provenance
Private collection, Queensland, acquired directly from the artist c.1998: information and ID photo supplied to Arkley Estate by the owners Sept.2011 (as 'The Sunshade Home')
Auctioned by Menzies, Melb., 20 March 2014, lot 107: ill., details as above; est.$14-18,000; sold for $17,000 plus buyer's premium ($20,864)