The Icon Head 1997 [W/P]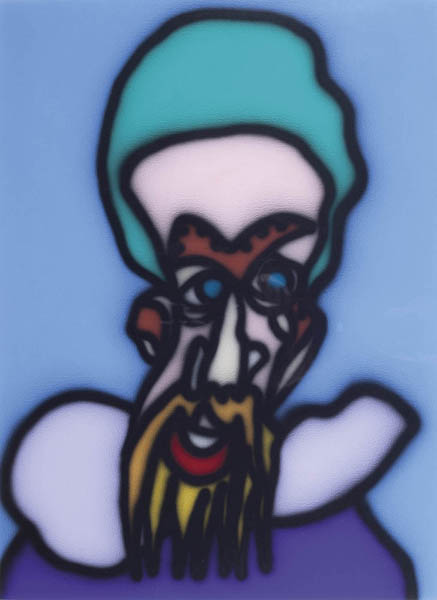 Synthetic polymer paint on paper, 76 x 56 [acc.to Menzies 9/12]
Signed, dated and titled on verso: 'Cat 113 / "The Icon Head" / 1997 / Acrylic on paper / Howard Arkley' [these details acc.to Menzies 9/12]
Coll.: unknown
This work is a close variant of both Self Portrait (1996) [W/P] and Untitled ['Head'] (1996?) [W/P], all three of them derived from a Byzantine icon image first adapted by Arkley in 1984: see Untitled [Icon #2] 1984 [W/P] and Pittoresque (1984) [W/P] (see also Black and White Icon (1995) [W/P]). Arkley used a different Byzantine source for his powerful Icon Head (1990) and its several variants (listed in the entry on that work). For the idea of some or all of these works as imaginary portraits of Arkley himself, see the discussion under both Icon Head (1990) and Self Portrait (1996) [W/P].
The history and details of the present work were established through correspondence between the previous owners and the Arkley Estate in September 2011; it was subsequently sold at auction in September 2012.
Provenance
Private collection, Queensland, acquired c.1998 (ID photo and documentation forwarded by the previous owners to the Arkley Estate, September 2011)
auctioned by Menzies, Sydney, 13 Sept.2012, lot 91 (details and photo as shown here; est.$8-12,000; sold for $6,000 plus buyer's premium).