Untitled [Egg] (1997) [3/M]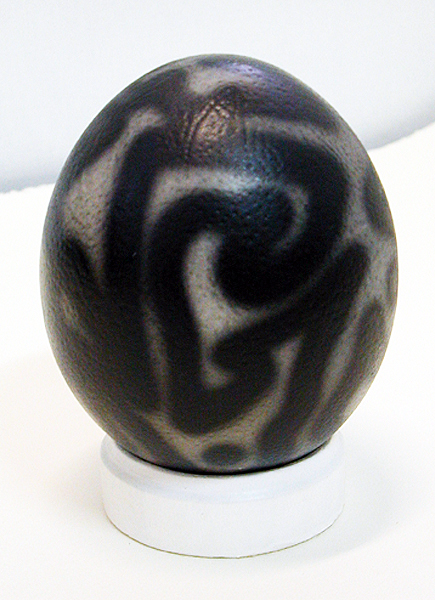 Synthetic polymer paint on ostrich egg
Private collection, Melbourne
This work was produced for a fund-raising auction organized by the Mornington Peninsula Regional Gallery late in 1996 and held in March 1997. Various artists (including Alison Burton and Arkley) were sent an ostrich or emu egg to decorate to their taste.
Arkley's work was purchased by one of the other contributors.
A small plastic egg with black texta doodles, in Arkley's studio archive, may be related to this project.
Many thanks to Narelle Russo, Assistant Curator, MPRG, and to Julie Watkins, another contributor, for assistance with information for this entry (2008); and to the owner for providing a photograph (2014).
Provenance
produced for the MPRG exh./auction (see below)
purchased by the present owner, 1997
Exhibited
Mornington Peninsula Regional Gallery, 3/97 ('The Embellished Egg')