A Large House and Garden (1997)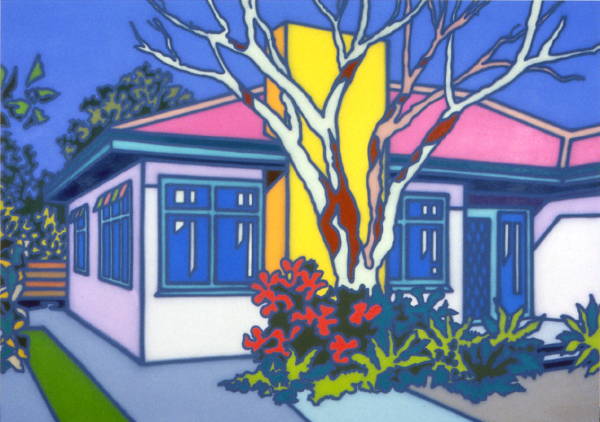 Synthetic polymer paint on canvas, 213 x 305
Buxton Collection, Melbourne
A monumental example of Arkley's later, subtler suburban style, with the greys and blues balanced around a central core of yellow, red and ochre (unfortunately neither of the reproductions in Crawford 2001 and Carnival Fig.1.11 do justice to the subtlety of the colour of the original work).
This is the extended version of the composition also used for House with Native Tree (1996) ['Unhomely'] and several subsequent variants of that work.
This painting was shown in the Tolarno exhibition held to accompany the launch of Spray at the end of 1997 (when it was reproduced in the Age review by McKenzie 1997), and was later prominent in the Buxton Collection exhibition at Heide in 2001-2.
Provenance
earlier history unknown
in Buxton Coll. by 2001 (see exhibition details)
Exhibited
Tolarno Nov.-Dec.1997 ('Spray' exh.)
Heide 11/01ff. (Buxton Collection exh.)
HA retrospective 2006-7 (shown in Melbourne only)
Literature
McKenzie 1997 (ill.; reviewing the 'Spray' exhibition)
Crawford 2001 (Buxton Coll. exh.cat.), pp.10 and 15 (ill.)
Carnival Fig.1.11