Interior with Built-in Bar (1992) [W/P] [Howard Arkley & Juan Davila]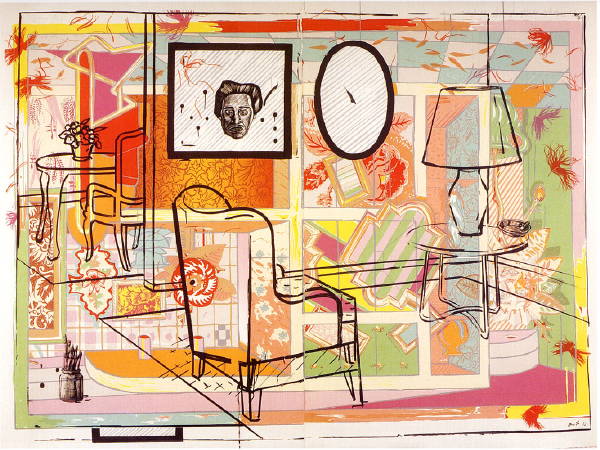 Silkscreen, ed.of 6, 165 x 215, in 2 parts; printed by Larry Rawling workshop
Various colls., inc. NGA, Canberra
This is the major work-on-paper outcome of the collaboration between Arkley and Davila in the late 1980s/1990s (for comments, see Gregory, Icon Interior, 2001).
The composition modifies the 'Traditional Living Room' template from Gold's Instant Decorator, also the basis for the left-hand canvas of Arkley and Davila's Blue Chip Instant Decorator: a Room (1991-2) [3/M], and several other 1990s canvases by Arkley. Jones (2012) sees it as a turning point in Arkley and Davila's collaborative development, signaling a shift from the tense combativeness of the Blue Chip installation towards what she calls the 'composite authorship' characterizing the two artists' subsequent installation Icon Interior (1994-2001) [3/M].
Impressions of this print are held in the NGA, Canberra; the  Buxton Collection, Melbourne; and several private collections.
Provenance
Exhibited
Heide 11/01-2/02 (Buxton coll.exh.)
Literature
Art & Australia 38.3, March-May 2001 (Kalli Rolfe advertisement for Davila: as 163 x 228)
Gregory, Icon Interior, 2001: 5 (inc. B&W ill.; details as above, provided by Davila)
Crawford 2002 (Buxton coll. exh.cat.), 17 (il.: as 163 x 228)
Carnival 153 and Fig.5.12
Jones 2012: 22