Spartan Space (Homage to De Stijl) 1992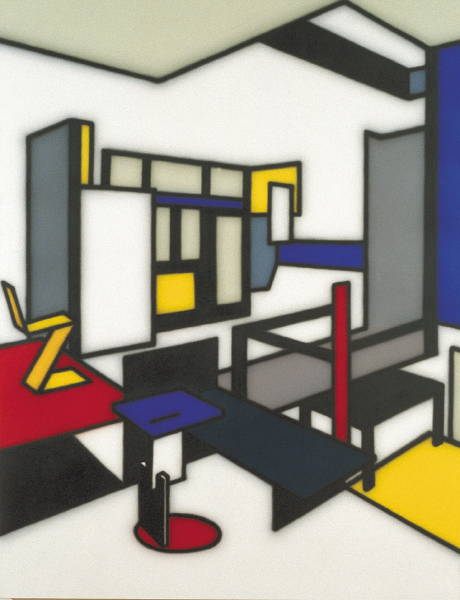 Synthetic polymer paint on canvas, 173 x 135
signed, dated and titled
Ballarat Fine Art Gallery

[2001.54]
The main sources are identified in Spray as images of Gerrit Rietveld's Schröder House (1924) and related De Stijl furniture. A modified source photo is preserved in Arkley's Visual Diary D 29 (early 1990s?) (see linked entry for a reproduction of the relevant page). See also Carnival 30, where the De Stijl references are discussed further, and this particular painting is described as a key to the complex ambitions involved in Arkley's 1992 'Mix'n Match' show as a whole.
In the 2006-7 Arkley retrospective in Melbourne, this work was hung suggestively with several of his earlier works on paper.
See also Untitled [Replica Rietveld Chair] (c.1975-6?) [3/M], Arkley's early homage to the Dutch modernist designer.
Provenance
P/C Melb. (purchased from Tolarno)
With Gould Galleries 2001
Purchased for Ballarat with funds from the Colin Hicks Caldwell Bequest Fund, 2001 (details via Ballarat Gallery brochure 2001: copy in Arkley archive)
Exhibited
HA Tolarno 10/92 ('Mix'n Match'), cat.3
HA Gould 8/01, cat.10
HA retrospective 2006-7 (detail as above; shown at all 3 venues)
Literature
Spray 108 and 111
Carnival 30 and Fig.1.20
Ramsay & Morrison 2006:148 (ill.)
Smith 2006: 11 (ill.)