Mod Style 1992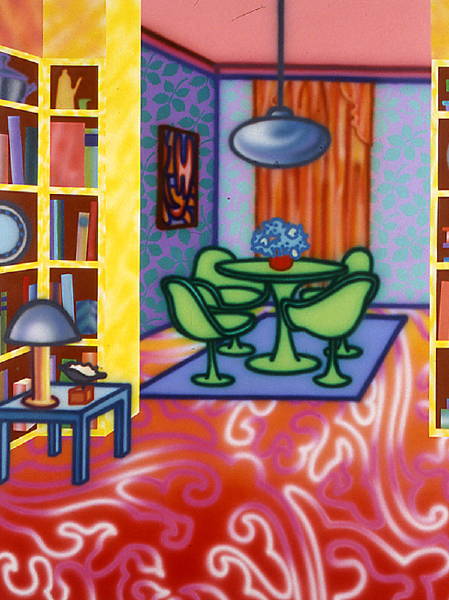 Synthetic polymer paint on canvas, 172.8 x 136.7
signed, dated and titled
Coll.: unknown (last auctioned Aug.2016)
The lineaments of the interior (based on the 'Studio Apartment' page from Gold's Instant Decorator: reproduced in Carnival Fig.1.17) float on a turbulent sea of vivid patterning, and suburbia becomes 'an exuberant but schizophrenic site for warring formal and decorative tendencies' (Carnival 30).
Dining in a Glow (1993), derived from the same source, arrives at quite different formal conclusions: see comparative analysis in Carnival 30.
The present work appeared at auction in August 2016, selling for a new record price for the artist.
Provenance
Tolarno Galleries, Melbourne
P/C Melb. (acquired from the above, Nov.1992)
P/C Melb. (acquired from the above)
Auctioned by Sotheby's, Sydney, 31 Aug.2016, lot 39 (details as shown above; est.$400-500,000; sold for $530,000 + buyer's premium [$646,000])
Exhibited
HA Tolarno 10/92 ('Mix'n Match'), cat.7
HA retrospective 2006-7 (details as above; shown in Melbourne only)
Literature
O'Connell 1993: 80 (ill.)
Spray 109 (ill.)
Kiely 2003: 186 (reproduction of the work in a domestic setting)
Carnival 30 and Fig.1.18 (full-page ill.)