Blue Chip Instant Decorator: a Room 1989 [W/P] [Howard Arkley & Juan Davila]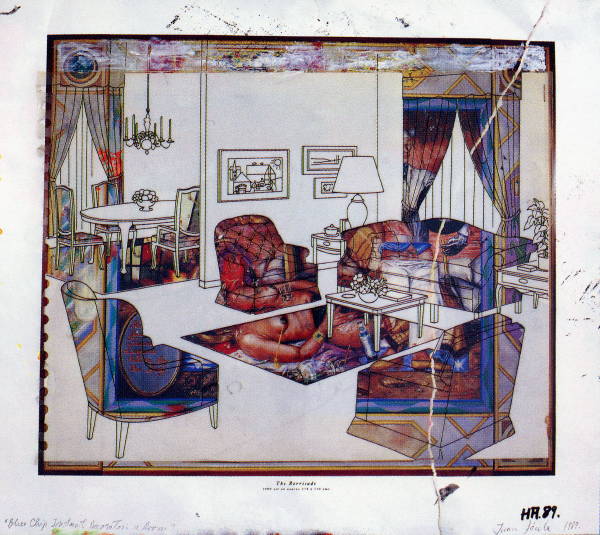 Collage on paper, 38.5 x 42.5
signed, dated and titled [in pencil below image, l.l.: '"Blue Chip Instant Decorator: a Room"' by both artists below image, l.r.: (a) in black fibre-tipped pen: 'HA.89'; (b) in pencil: 'Juan Davila 1989']
Benalla Art Gallery
This work combines a reproduction of Davila's brooding 1989 painting The Barricade (Brett & Benjamin 2006, pl.47) with the cheerily domestic 'Traditional Living Room' page from Arkley's copy of Gold's Instant Decorator.
The resultant collage, effectively a compositional study for the left-hand canvas from the two artists' Blue Chip Instant Decorator: a Room (1991-2) [3/M], clearly prefigures the clashing values and cultural systems at the heart of that installation.
Provenance
Donated by Juan Davila (date?)
Literature
Brett & Benjamin, Juan Davila (2006), p.135, p.241 (ill.)
Jones 2012, pp.16-17.