Interstellar/Offcuts 1989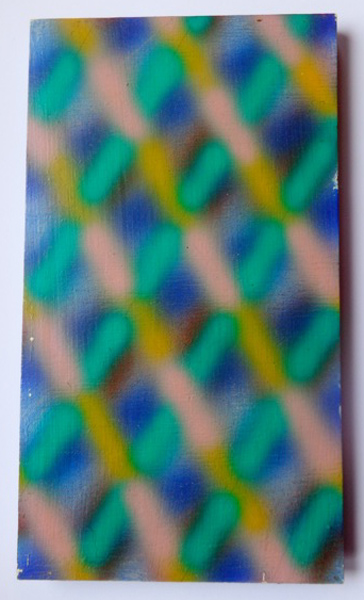 Alternate title: Thermonuclear
Synthetic polymer paint on wooden board, approx. 24 x 14
Signed, dated & titled (on verso: "Thermonuclear" / Howard Arkley / 89″)
Private collection, Melbourne
This Arkley curio was shown at the Linden Gallery in 1989, as Interstellar/Offcuts, together with Supernova/Remnants (1989), so far unidentified. The idea of the Linden exhibition (which included over 300 small works by some 200 artists) was to reprise the famous '9 x 5 Impression Exhibition' of 1889: for further details, see the main entry for 1989.
In June 2015, the owner of the present work forwarded the photo and details shown here, noting that he bought it at a Joel's auction in about 1995 (exact details yet to be established). The decorative formula used is an example of the cross-hatched "lattice" pattern Arkley employed on various occasions from the early 1980s onwards (see e.g. Lattice and Grids 1980 [aka 'Lattices']).
The orientation of the work, as shown here, is indicated by the additional inscription "TOP" on the verso; the owner also reports that when he first saw it at Joel's, the panel came complete with an ornate gold frame which subsequently disappeared.
Provenance
Unknown prior to c.1995
Auctioned by Leonard Joel, c.1995 (details yet to verify)
Purchased from the above by the present owner
Exhibited
'Heidelberg and Heritage', Linden Gallery, St Kilda, 8/89, cat.8 (as Interstellar/Offcuts)