Cactaceae-Horstii (?) 1989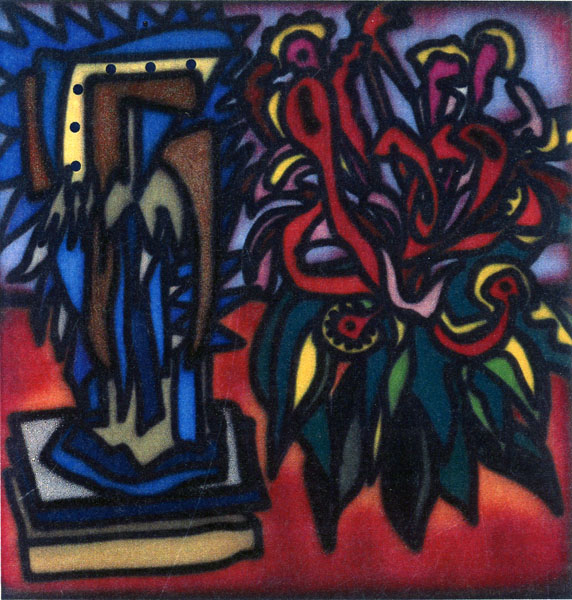 Synthetic polymer paint, gold and silver dust on canvas, 123 x 121.5
[according to Goodmans]
signed and dated [on reverse: Sotheby's]
Coll.: unknown
When the painting reproduced here was auctioned in 2000 (under two different titles), its earlier history was not recorded. However, it seems to correlate with a canvas listed on a Spray research card (c.1996), under the present title, described as 4' square (i.e. approx. 120 x 120 cm), and incorporating added 'glitter'.
Alison Burton recalls being involved with the production of this canvas (advice provided June 2011). The inclusion of glitter may be compared with the use of metallic paint in Stucco Home (1991).
The composition varies that used for Conophytums (?) (1984?) [W/P] (which may also have been known as 'Cactaceae-Horstii') .
Provenance
Recorded on Spray research card c.1996 as in a Melbourne P/C [Max Joffe] (as 'Cactaceae-Horstii', 4' square; no photo)
Auctioned by Sotheby's, Melb., 2-3 May 2000, lot 110, as 'Succulence' (SPP, 123 x 122; signed and dated 1989 on reverse; ill.; est.$18-25,000; sold for $24,000 plus buyer's premium)
Auctioned by Goodman's, Sydney, 23 Oct.2000, lot 131, as 'Still Life, 1989-90' (SPP, gold and silver dust on canvas, 123 x 121.5; ill.; est.$40-60,000; sold for $40,000 plus buyer's premium).