'Howard Arkley', Bellas, Brisbane, May-June 1994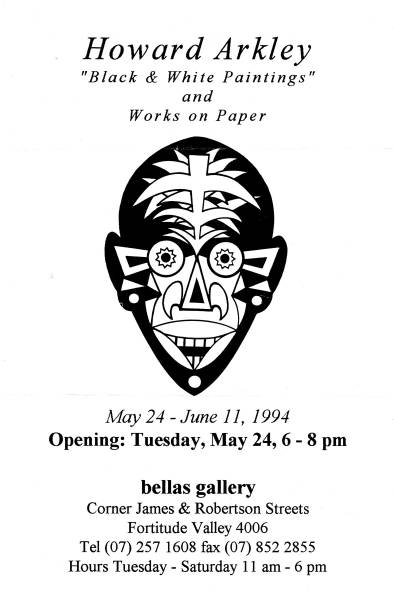 'Howard Arkley: "Black and White Paintings" and Works on Paper', Bellas Gallery, Brisbane, 24 May-11 June 1994
The invitation – reproduced here – is preserved in the artist's archive.
No check-list appears to have survived (thanks to Hamish Sawyer of Milani Gallery, Brisbane, for checking on this, Nov./Dec.2008), and it remains uncertain how many Arkley canvases were included. However, Alison Burton has forwarded a copy she made at the time, listing all the works of paper exhibited (see below).
Many of these works were also listed in Arkley's 1993-6 stock-book, as with Bellas in 1994, as marked # in the lists below.
Works on canvas shown probably included the following:
20 works on paper were shown, as follows – details via list in Alison Burton's hand-writing. As she recalls, they were all monochrome, or largely so (correspondence, Dec.2014). Most of them seem to have measured  approximately 76 x 56 cm. Although a number of these works remain unidentified, several may be identical with works shown under different titles in Arkley's 'White + Black' show at Tolarno, Sept.1995.