Untitled ['Man looking onto cityscape'] (1994?)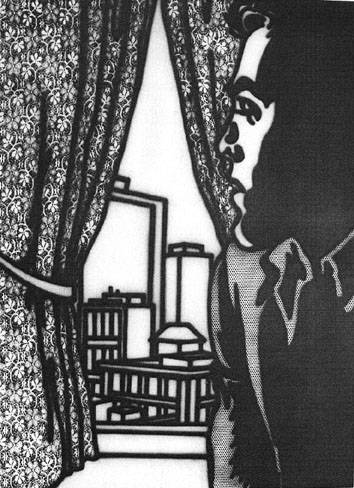 Synthetic polymer paint on canvas, 170 x 130
Private collection, Brisbane
An unusual work, not least for including a figure in an architectural setting.
Alison Burton, who recalls the work, believes the date suggested in the 2006-7 retrospective (c.1988-90) is almost certainly too early, given the extensive use of stencilling, a feature of Arkley's work particularly from 1992 onwards.
Possibly exhibited in Arkley's 1994 solo show in Brisbane (Bellas Gallery), perhaps as Suburban Allegory (1994?).
One of the sources for this painting may be a photograph of the artist himself surveying the city of Melbourne, from Arkley's Visual Diary D38 (c.1994-96?).
Provenance
Recorded in a Brisbane P/C in NGVA Arkley retrospective planning notes c.2006
Exhibited
(?) HA Bellas, Brisbane, 5/94 ('Black & White Paintings and works on paper'): see comments above
HA retrospective 2006-7 (all 3 venues; as c.1988-90)