The Cacti Succulents (1986)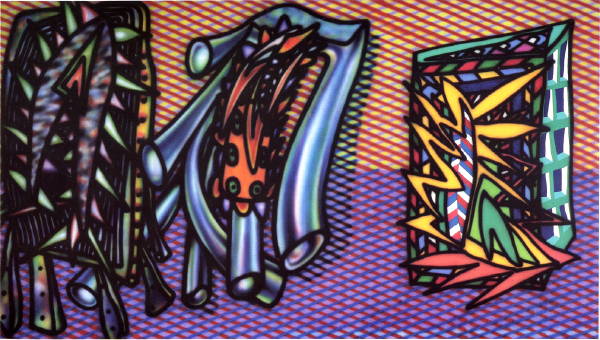 Synthetic polymer paint on canvas, 148 x 258
Museum of Contemporary Art, Sydney, Gift of Loti Smorgon and Victor Smorgon, 1995 [1995.119]
Published in the Smorgon Collection survey books by Buckley (1987) and Michael (1997). The exploding box form at right first appeared in Arkley's work in 1983: see e.g. his Tolarno 11/83 invitation (reproduced in the exhibition entry) and Untitled [Lanced Lace] 1983 [W/P]; see also The Triffids [poster] 1985 [W/P] and Construction Sight 1984 [W/P].
Discussing this painting for the NGVA Arkley audio-guide (2006), Chris McAuliffe commented on the significance of the theme of mutation in Arkley's art, and developed a stimulating comparison with the 1980s work of US painter Frank Stella.
The painting shown as "The Cacti Succulents" in Arkley's "Urban Paintings" show at the Quentin Gallery in Feb.-March 1985 was presumably identical either with this work or Untitled ['Cacti and Succulents'] 1986.
Provenance
In the Smorgon Collection by 1987 (see Buckley 1987)
Exhibited
(?) HA Quentin, Perth, Feb.-March 1985, cat.17 ($3,000)
HA retrospective 2006-7 (all 3 venues; details as above)
Literature
Buckley 1987 (unpaginated: ill.)
Spray 74-5 (ill.)
Michael & others 1997 (MCA: Smorgon gift), 101
NGVA Arkley audio-guide 2006 (cited above)