Untitled ['The Cacti Succulents'] 1986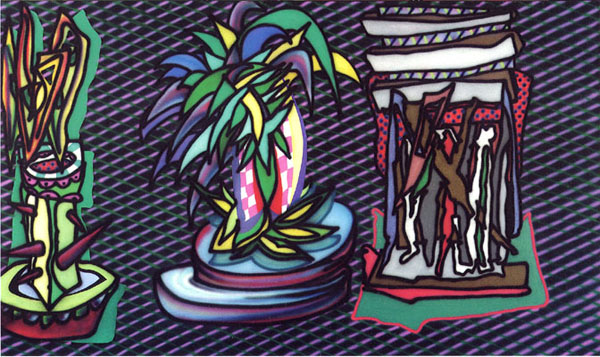 Synthetic polymer paint on canvas, 120 x 200
Signed and dated [on verso: "Howard Arkley / 1986"]
Gift of Eva Besen and Marc Besen; TarraWarra Museum of Art collection

This canvas is clearly related to the somewhat larger painting The Cacti Succulents (1986) (Smorgon Collection, MCA), which develops a similar theme of three plant-like "figures" arrayed across a trellis-patterned background.
Here, though, the style is generally crisper, and the individual components are quite different in character from those in the MCA picture. The spiky trunk of the left-hand figure echoes one of the figures in Construction Sight 1984 [W/P] (and also a detail in Primitive [mural] (1981) [W/P], towards the lower right). The central tree-like form may be compared with Euphorbia (1984) [W/P]; and, for the base, see also Notocactis (1986). Finally, the right hand element is comparable with Untitled ['Cacti and Succulent'] 1986 [W/P].
The work shown in Arkley's "Urban Paintings" exhibition at the Quentin Gallery, Perth, early in 1985, as Cacti Succulents (priced at $3,000; no other details given) was presumably either the MCA picture or the present work. However, whereas the Smorgon picture is recorded and reproduced several times from 1987 onwards, this canvas first seems to have been documented unambiguously in May 2000, when it was auctioned in Melbourne.
See also Totems-Epiphyllum-Hybrid 1986.
Provenance
Private collection (acc.to Deutscher-Menzies 5/00)
Auctioned by Deutscher-Menzies, Melbourne, 3-4 May 2000, lot 2 (as "The Cacti Succulents"; ill., details as shown; catalogue essay by Ashley Crawford; est.$40-60,000; sold for $65,000 + B/P [$74,000])
Coll.Eva Besen & Marc Besen
Donated to TarraWarra through the Australian Government's Cultural Gifts Program 2009
Exhibited
(?) HA Quentin, Perth, Feb.-March 1985, cat.17: Cacti Succulents ($3,000)
HA TarraWarra 12/15-2/16: as Untitled (The Cacti Succulents) 1986
Literature
Fitzpatrick & Lynn, Howard Arkley and Friends (2015), p.94 (ill.)