The Ritual 1986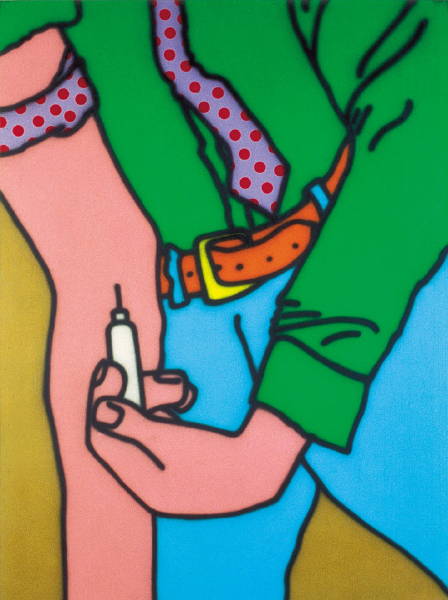 Synthetic polymer paint on canvas, 160 x 120
signed, dated and titled [on reverse: 'Howard Arkley / The Ritual / 1986']
State Library of Victoria, La Trobe Picture Collection [H89.55]
This canvas was a controversial acquisition for the State Library of Victoria in 1988: see e.g. the contemporary press report by Te Koha 1989. For later remarks on this episode, see Spray, and the recent volume on the State Library of Victoria's picture collection (Carmody 2007).
Since Arkley's death, most commentators have interpreted this painting – perhaps inevitably – as a directly autobiographical if not confessional work (see e.g. Ashley Crawford's comments in Carmody 2007). Originally, though, it was simply one of the several views of the urban / suburban scene represented in Arkley's signature solo shows at Tolarno and Roslyn Oxley9 in 1986 and 1987: for further comments on this issue, see Gregory 2008.
When the work was exhibited in a group show in 1988, Christopher Heathcote, writing in the inaugural issue of Agenda magazine, assessed its tone particularly astutely: 'a close-up of an identity-less body injecting smack… finished in air-brushed, Peewee Herman lolly-shop colours, …more concerned about the ethics of the crisp red polka-dots on the fuzzy mauve tie and matching tourniquet, whether they weren't just the slightest bit gauche. Good, bad and meaning were relegated to the question of doing it in style, of operating in the sub-cultural (visual) discourse' (Heathcote 1988).
As noted in Carnival, the style has much in common with the comics Arkley was collecting and appropriating during the 1980s.
Provenance
Tolarno Galleries
acquired directly from the above in Sept.1988 for $5,000 (details in Arkley's files)
Exhibited
HA Tolarno 9/86, cat.9
HA Roslyn Oxley9, 9/87, cat.9
HA Anima Gallery, Adelaide, 10/87, cat.5
City Gallery, Melb., 5/88 ('La Bohème', curated by John Nixon)
State Library of Victoria, Melb., 11/88 ('Pictures in an Institution')
HA Monash 1991, cat.58 (details as above)
HA retrospective 2006-7 (all 3 venues)
Literature
Nixon 1988: ('La Bohème' exh.cat.: ill.)
Heathcote 1988: 22-23 (as quoted above)
Te Koha 1989
Spray 83-4 (inc. ill.)
Carnival 121 and Fig.4.17
Carmody 2007, pp.1-5 (Carmody) and 136-37 (Ashley Crawford)
Gregory 2008, esp.pp.20-21