Neapolitan Delight 1993 [kitchen]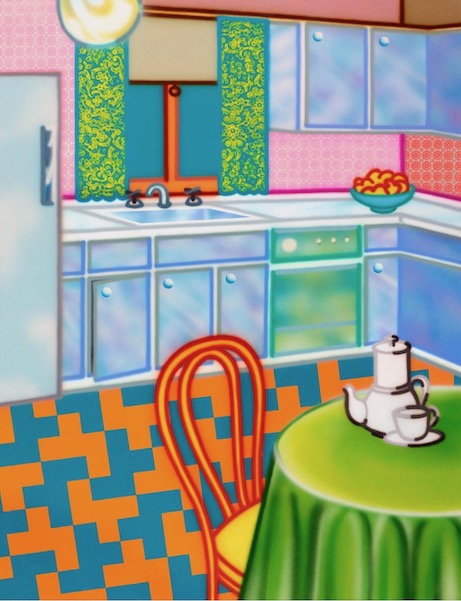 Synthetic polymer paint on canvas, 175.2 x 134.7
Signed, dated & titled (verso)
Coll.: unknown
Exhibited in Arkley's "Recommended Rooms" show, Bellas, Brisbane, 5/93; slide in Arkley's archive.
The source image for this painting, from Gold's Instant Decorator (see reproduction in Gregory 1992) presents a homely setting; but the cupboard door shown slightly ajar (also in Gold's sketch) could suggest hidden depths, accentuated by the alarming tilt to the tiled floor added by Arkley.
NB this painting should not be confused with Neapolitan Delight (1993) [lounge-room].
Provenance
Bellas Gallery, Brisbane
Acquired for private collection, Melbourne, 1995
Auctioned by Sotheby's, Sydney, 20 Nov.2019, lot 33 (revised details and ill.as shown here; set.$800,000 – $1,000,000)
Exhibited
HA Bellas, Brisbane, 5/93, cat.2 ($7,000)