Zappo Head 1987 [Oxley]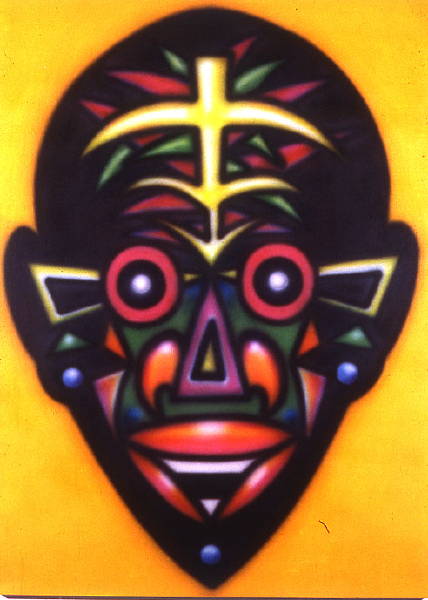 Synthetic polymer paint on canvas, 160 x 122
signed, dated and titled [on reverse: 'Title. Zappo Head / Date. 1987 / Size. 4' x 5'3" / Medium. Acrylic on canvas / Howard Arkley']
Private collection, Melbourne
First shown at Arkley's solo shows in Sydney and Adelaide in 1987.
Following the opening of the Arkley retrospective in Nov.2006, the current owner volunteered a photo and details as noted here.
Zappo Head 1987 [Bendigo] is a larger version.
Provenance
Auctioned by Leonard Joel, Melb., 27 April 1992, lot 238 (ill.; details as shown here, except size, given as 160x 120; est.$5-6,000; sold for $3,500 plus buyer's premium)
Possibly auctioned by GFL, Perth, 10 March 1997, lot 48 (details as above but no photo seen; est.$5-6,000; not sold: details via AASD website 9/09)
Auctioned by Sotheby's, Melb., 10 Nov.1997, lot 347, as 'Orange Zappo Head' 1987 (ill.; est.$8-10,000; sold for $9,775 inc. buyer's premium): purchased by present owner at this auction?
Exhibited
HA Roslyn Oxley9, 9/87, cat.5
HA Anima Gallery, Adelaide, 10/87, cat.4 ($4,000)