'Howard Arkley: Cacti & Succulents', Roslyn Oxley9, Sydney, May 1984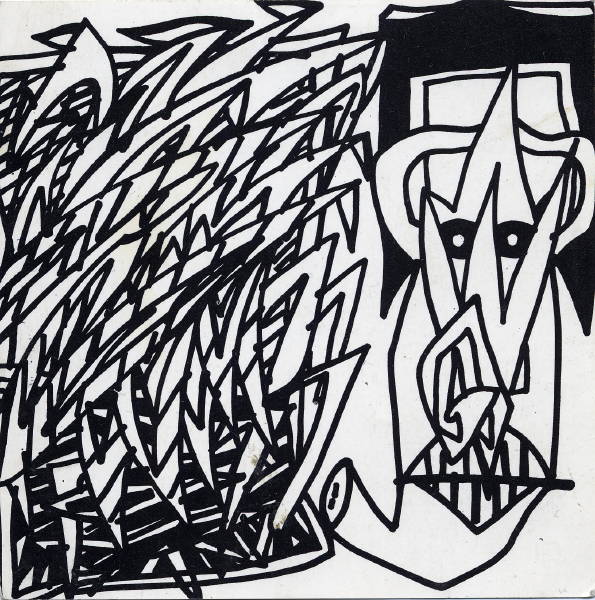 'Howard Arkley: Cacti & Succulents', Roslyn Oxley9, 13-21 MacDonald Street, Paddington, Sydney, 10-26 May 1984
This show comprised 4 canvases first shown in 1983, and 8 works on 'rag paper' (mostly of cacti – essentially a new theme for the artist). The check-list includes the earliest use of the term 'synthetic polymer paint' rather than 'acrylic' for Arkley's works.
No installation photos have been traced, but most works can be identified with reasonable certainty via slides and other evidence, as noted. Sizes listed were 77 x 107 (nos.1-6), 110 x 150 (nos.7-12). Prices were $500 for nos.1-6, $800 for nos.7-8 and $1,100 for nos.9-12.
A gallery letter [copy in Arkley archive] indicates that cat.nos.1 and 9 were sold. Terence Malloon praised the show in the Sydney Morning Herald; but Sandra McGrath, writing in the Weekend Australian (12-13 May) was less impressed.
(photo: Invitation to opening [verso]: copy in Arkley's files)
1. Neo-Porteria (1984) [W/P]: probable ID via untitled archive slide (Roslyn Oxley label)
2. Lophophora (1984) [W/P]: identified via reproduction in Spray 77 and archive slide
3. Pittoresque (1984) [W/P]: probable ID via description of the work as shown in New Zealand in Sept.1984 (Hill 1984): quoted in catalogue entry
4. Neocummgii: see Stapelia-Peduncle 1986 [W/P]
5. Euphorbia (1984) [W/P]: provisional ID via untitled archive slide (Roslyn Oxley label)
6. Conophytums (1984) [W/P]: provisional ID via untitled slide with Roslyn Oxley label
7. Lace-Lanced: unidentified, but probably = Untitled [Lanced Lace]1983 [W/P], as exhibited in Tasmania in Sept.1985, and auctioned in 2002
8. Razz-Dazz (1984) [W/P]: unidentified, but again possibly one of the works shown in Tasmania in 1985, e.g. Untitled [Hobart] 1984 [W/P]
9. Suicide 1983: sold at this show (gallery letter in Arkley's files); 1st shown at Tolarno Oct.1983
10. Tennis (1983): 1st exh. at Tolarno Oct.1983
11. Penis (110 x 150) = Tattooed Penis (1983), 1st shown at the NGV 1983
12. Hands (110 x 150) = Tattooed Hands 1983, also 1st shown at the NGV 1983