Winds of War Graffiti 1983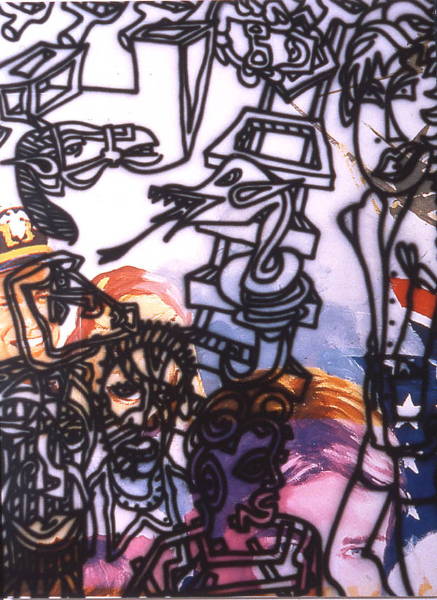 Alternate title: Billboard
Synthetic polymer paint on poster on canvas, 159 x 119
signed, dated and titled [on reverse: 'Howard Arkley 1983 / Winds of War Graffiti']
Coll.: unknown
First shown in HA Tolarno 10/83 as Billboard (clearly identifiable via installation photos), but subsequently exhibited and reproduced as Winds of War Graffiti, and evidently inscribed with that title sometime before it was catalogued for the 1991 Arkley survey show at Monash.
In his review of the 1983 Tolarno exhibition, Robert Rooney described this work as showing 'graffiti-like heads… sprayed over a section of a giant poster for The Winds of War'. The 'graffiti' are based in part on images from a children's colouring book in Arkley's studio collection; several working drawings based on the same reference are also extant in Arkley's archive.
See also Schizo 1983.
Provenance
P/C Melb. via Tolarno (acc.to Sotheby's and Joel's as noted below)
with Metro 5, Melb., 2/02 (see below under exh.)
auctioned by Sotheby's, Melb., 29/11/04, lot 40 (ill.; est.$35-45,000; not sold)
P/C Melb. (acc.to NGVA exh.files 2006)
auctioned by Joel's, Melb., 26/3/07, lot 72 (ill.): sold for $42,480 inc.buyer's premium
Exhibited
HA Tolarno 10/83, cat.4 (as Billboard)
HA Quentin, Perth, 2/85, cat.29
HA Monash 1991, cat.50 (details as above)
HA Metro 5, Melb., 2/02, cat.16
HA retrospective 2006-7 (shown in Melbourne only)
Literature
Rooney, Weekend Australian, 5-6 Nov.1983 (review of Tolarno show: quoted above)
Duncan 1991:10 (B&W ill.)
Carnival 72-3 and Fig.2.20 (full-page ill.)