Photographs of Paris doorways (1977) [3/M]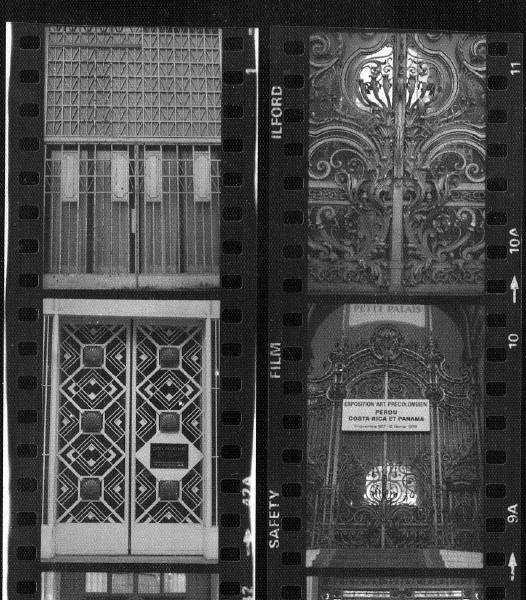 Photographs/negatives
Howard Arkley archive: State Library of Victoria, MS 14217, series 8 [MS BOX 4297-4298]

This extensive series of photographs of Paris doorways later served as a key reference point for Arkley's door-format paintings (1978-80): see Duncan 1991 and Spray as cited below. Four representative examples are reproduced here.
Their floral and geometric designs compare closely with the compositional sketches in Arkley's Visual Diaries, nos.6 and 9 (dating from 1976-77), and his door series as a whole. The titles and/or compositions of several of the 'door' canvases such as Curvelinear 1978, Soft Nouveau 1978 and Deco 1979 [aka Arrows-Crosses] suggest more specific parallels.
Elizabeth Gower, pointing out that the patterning of these doorways was also an interest of hers, and noting that she and Arkley shared one camera during their travels, comments that she also took a number of these photos (interview July 2010).
Provenance
artist's collection
Arkley archive
Literature
Duncan 1991: 20 as cited above (HA Monash exhibition catalogue)
Spray 24 (and reproductions of examples, pp.22 and 24)
Fitzpatrick & Lynn (2015), pp.12-13 and 118 (reproducing further examples)