Freeway Exit 1996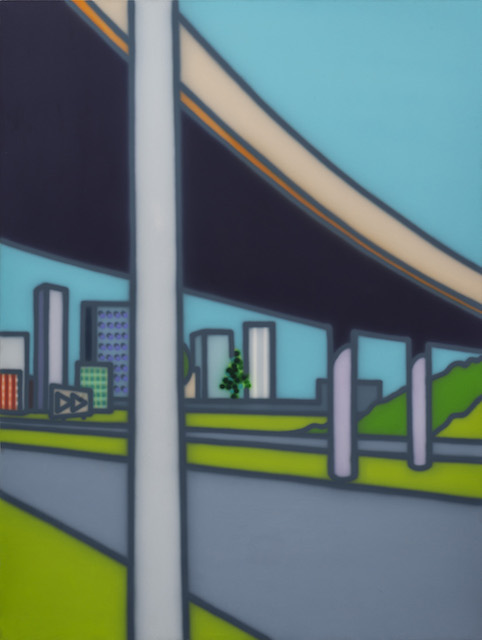 Synthetic polymer paint on canvas, 203 x 153
Signed, dated & titled (on verso: Name Howard Arkley/ Title Freeway Exit / Date 1996 / Size 203 cm x 153 cm / Medium Acrylic on canvas)
Private collection, Melbourne
Arkley's Brisbane dealer, Peter Bellas, included this painting (listed as 'Freeway') as the centrepiece of his exhibition of the artist's works in March-April 1996. It was subsequently acquired by Melbourne dealer Nellie Castan, and then bought by the present owner.
In 2016, on the basis of new information received by a correspondent, the details for this canvas were confused inadvertently with those for the similar but slightly smaller work Freeway Painting (1996). Many thanks to Melbourne gallery owner Scott Livesey for helping to sort out this confusion, and also for providing the details and photograph included here (early in 2019); thanks also to Peter Bellas and Nellie Castan for confirming the provenance shown here.
Both 1996 canvases were developed from the central section of the composition used for the large 'widescreen' painting A Freeway Painting (Over Pass) 1994 (see that entry for further details, including information on Arkley's sources).
Other works in the same abbreviated vertical format include Freeway Exit (1999) [Buxton], Freeway Exit (1999) [Lovegrove], and several works on paper, notably Freeway Overpass (1996) [W/P] (also included in the 1996 Arkley exhibition at Bellas Gallery).
Provenance
Presumably the work listed in Arkley's 1993-96 stock-book as with Peter Bellas in Dec.1995, titled 'Freeway Exit' (in May 2019, Bellas confirmed that this was the only painting of this subject with which he dealt at the time)
Acquired from Bellas Gallery by Nellie Castan, Melbourne, 1996
Bought from the above by the present owner, also in 1996
With Scott Livesey, Melbourne, 2019
Exhibited
HA Bellas Brisbane 3/96, cat.4 ('Freeway,' SPP on C, 200 x 150; priced at $10,000)