Suburban Window 1987 [Howard Arkley & Christine Johnson]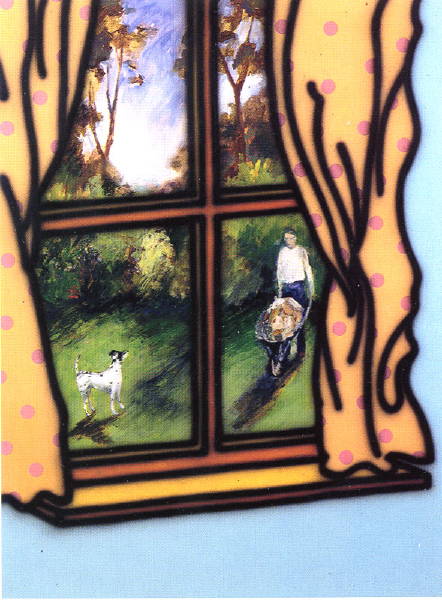 Alternate title: Suburban Landscape
Synthetic polymer paint on canvas, 160 x 121
signed, dated and titled [on reverse – according to Christie's 4/96]
Private collection
[NB the details listed below supersede an earlier catalogue entry, Suburban Landscape 1987 [aka Suburban Window] [Howard Arkley & Christine Johnson], in which the provenance and exhibition histories of this painting and Suburban Landscape 1987 [Howard Arkley & Christine Johnson] were conflated inadvertently. Many thanks to Christine Johnson, Victoria Lynn and Anthony Fitzpatrick, for helping to unravel the complex history of both works in 2015.]
The present canvas appears, incomplete, in a Polaroid photo in Arkley's studio collection, dated June 1987, showing the landscape only partly painted, and colour yet to be added to the curtains and surrounding wall. The finished painting was exhibited in Arkley's solo show at Roslyn Oxley9 in September 1987 (where it was listed as "Suburban Landscape"). Four years later, it was included in the Monash survey of Arkley's work, still apparently with Roslyn Oxley9, but now as Suburban Window (the title by then inscribed on the back of the canvas, along with Arkley's name and the date). In 1996, it was auctioned by Christie's in Melbourne; the catalogue entry noted the 1987 and 1991 exhibitions, and reproduced the work.
Prior to Arkley's death, the painting was exhibited and reproduced as by him alone. However, in an astute review of the Roslyn Oxley9 show, published in the Sydney Morning Herald in 1987, critic John McDonald had already drawn attention to the obvious stylistic disparity involved, concluding that Arkley "has collaborated with another artist who has painted a cosy, backyard scene which we view through a window in one of Arkley's bright household interiors." And, as Ashley Crawford and Ray Edgar observed in Spray (1997), the composition is a rare instance of "human presence" in Arkley's otherwise largely "soulless" suburban oeuvre (it is unclear which version is meant: see below).
These unusual characteristics were finally explained in 2001, in an interview with Christine Johnson, Arkley's partner at the time it was produced (see Litson 2001). As Johnson revealed, the painting (which she called "Suburban Landscape") was in fact the result of collaboration between her and Arkley, not his work alone. She contributed the freely painted garden, man and dog; he added the window frame and polka dot curtains, using his characteristic flat comic-book colour and black sprayed line-work. For further discussion of the painting in the context of Arkley's collaborative work with other artists, see my book Carnival in Suburbia (2006). In the 2001 interview, Johnson also noted that the figure with the wheelbarrow was based on her memory of her father, who died when she was nine years old.
The clear contrast between Arkley's own apparently inexpressive sprayed technique and the "painterly" detail of the garden scene – here achieved through a collaborative process – appears to have sparked similar experimentation with contrasting style and technique in other paintings produced by Arkley during the following few years. In Stucco House (1988), for example, the sprayed line-work is in creative tension with various passages of relatively thick paint and visible brushwork. Similar comments apply to significant areas of other works of the late 80s such as Waterfall 2 1988, Hedge on Street Corner 1988 and its MCA variant Untitled [Hedge] (1988), and Arkley's factory compositions beginning with Shadow Factories (1988). Similar stylistic contrasts – again generated through a collaborative process – also form part of the "pictorial battle" he waged with Juan Davila in their major installation work Blue Chip Instant Decorator: a Room (1991-2) [3/M] [Howard Arkley & Juan Davila].
A closely similar variant of the present painting, Suburban Landscape 1987 [Howard Arkley & Christine Johnson], also dated 1987 and originally described as Arkley's work alone, was first documented in the "Greenpeace Artists' Benefit" exhibition at Linden Gallery, St Kilda, in July 1990: for further comments on this variant, see the relevant entry. Again, the notion of an "obvious stylistic disparity" – which, Johnson recalls, proved popular when the present work was shown in Sept.1987 – was central. However, as Johnson pointed out recently, the painting shown at Roslyn Oxley9 should be regarded as the originary and arguably better work (communication with the author, 5 Oct.2015).
Provenance
Auctioned by Christie's, Melb., 29 April 1996, lot 47 (details as given above; ill.; est.$8-12,000; not sold?)
Exhibited
HA Roslyn Oxley9, 9/87, cat.6 (as Suburban Landscape, 160 x 122 cm; priced at $4,000)
HA Monash 1991, cat.67 (as Suburban Window 1987, 160 x 121 cm, signed, dated & titled on reverse; as courtesy Roslyn Oxley9)
Literature
McDonald 1987 (quoted)
Duncan 1991 (HA Monash exh.cat.), cat.no.67
Crawford & Edgar, Spray (1997), p.127
Litson 2001 (Christine Johnson interview)
Carnival 147