Physiognomy 1987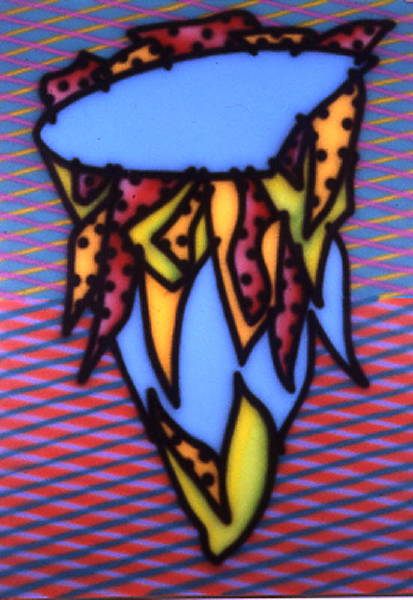 Alternate title: Strange Fruit
Synthetic polymer paint on canvas, 163 x 122
signed, dated and titled [on reverse: 'Physiognomy / Howard Arkley / 87']
Private collection, Sydney
This painting, reproduced in Spray as 'Strange Fruit', was apparently first exhibited (at the Bellas Gallery, Brisbane, June 1987) as Physiognomy, its inscribed title.
The ambiguity regarding the title (mirrored in Arkley's own archive, where slides of this work bear both titles) appears to stem from Arkley's solo show at Roslyn Oxley9 in Sept.1987, where this painting may indeed have been shown as 'Strange Fruit' (cat.7). Installation photos demonstrate that that exhibition included both the painting reproduced here, and the work catalogued as Strange Fruit 1987, the latter work apparently shown in Sept.1987 under a different title, possibly 'English Style' (cat.8).
For the derivation of the alternate title, see the entry for Strange Fruit 1987; and for comparative discussion of both works, including further comments on relevant sources and references, see Carnival 169.
Provenance
Auctioned by Deutscher-Menzies, Melb., 25-26 April 1999, lot 248, as 'The Physiognomy', s+d 1987; ill.; noting 'related work' reproduced in Spray 76 (actually this painting: see below, under Literature); est.$8-12,000; sold for $7,000 plus buyer's premium
Auctioned by Christie's, Sydney, 13 Aug.2000, lot 13 (ill.; as Physiognomy; est.$40-60,000; not sold)
Exhibited
Bellas 6/87 (i), cat.2 (as 1200 x 1600 mm, priced at $5,500; corroborated by Christie's 8/00 auction cat. as above)
HA Roslyn Oxley9, 9/87, possibly as cat.7 ('Strange Fruit'): see discussion of that exhibition
HA TarraWarra 12/15-2/16 (details as above; ill.)
Literature
Spray 76 (ill.: as Strange Fruit – see comments above)
Carnival 169 and Fig.6.14 (ill.: as Physiognomy)